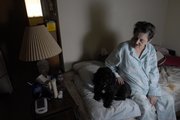 One of the worst fires in Lawrence history has set a state record for crime victim compensation.
By the end of June, almost $80,000 will have been awarded to victims of the October 2005 Boardwalk Apartments fire. A jury convicted Jason Allen Rose on May 11 of setting the fire. Rose was sentenced Monday to 10 years in prison.
"We just don't see a lot of incidents similar to this where there are 12, 15 or more people injured at the hands of one individual," said Frank Henderson Jr., director of the Crime Victims Compensation Board in Topeka. "Generally, (claims) involve one single crime where there is one person injured, possibly two and three at the maximum."
When the fire struck, many of the residents in the 78-unit apartment building were without health insurance and racked up thousands of dollars in medical expenses and lost wages. Family members of those who died - Jose Gonzalez, Nicole Bingham and Yolanda Riddle - also are eligible for funeral expense reimbursement. Bingham's mother, Nancy Bingham, has applied and been compensated for the funeral, Henderson said.
A funeral claim filed by Maria Gonzalez, Gonzalez's sister, is pending, and Henderson is confident it will be paid.
Established in 1978, the Crime Victims Compensation Board is an arm of the attorney general's office and assists victims of violent crime with funds up to $25,000 per victim for medical costs, counseling, funeral expenses, lost wages and dependent economic loss.
Lawrence resident Sandy Meyer and her husband, Ronald Belisle, received about $1,100 to help with medical bills and lost wages after the fire. The couple lost everything they owned, including one of their cats, in the fire.
Belisle, 57, broke his arm jumping from a landing, and Meyer, 65, suffered smoke inhalation that further damaged her weak lungs. Before the fire, she had 40 percent lung capacity. It is now about 11 percent.
Meyer didn't know the board existed until a letter arrived in the mail a few weeks after the fire.
"We were very surprised : and it was fast," she said. "The money for his lost wages really helped us."
To apply for compensation, victims of violent crime must submit an application detailing their experience. Forms can be downloaded from the attorney general's Web site, www.ksag.org, and are available at district attorney offices.
In most cases, it takes two to three months for victims to be compensated.
When a claim is filed, the board's two investigators consult with police and district attorneys and examine crime reports, medical bills and other documents.
Interviews with the victims and witnesses also are conducted.
"It would be difficult to fraud the system because everything is verified that a crime did indeed take place and the individual must be what we consider to be an innocent victim of a crime," Henderson said.
The money the compensation board pays victims does not come from Kansas taxpayers, but from offender-based sources. Fines and penalties from district courts throughout the state amount to a little more than $2 million a year. The board also receives a U.S. Department of Justice grant, which is a percentage of federal court fines and penalties given to states.
Two of the 12 victims in the Boardwalk Apartments fire received the maximum of $25,000.
The three-member board, appointed by the attorney general and confirmed by the Legislature, meets monthly to review cases and determine money awarded.
Rita Noll, chairwoman of the board, said she spends one weekend a month reviewing cases before the board meets.
"I can only read so many at a time before I just have to stop and do something else and then come back to it," said Noll, a Topeka lawyer. "You never see happy endings to these applications when people are victims of crime.
"It's one thing seeing it on the news," Noll said, "but then when you sit down and read about what these victims went through, that's when it's really tough."
Copyright 2018 The Lawrence Journal-World. All rights reserved. This material may not be published, broadcast, rewritten or redistributed. We strive to uphold our values for every story published.