Rodrick Stewart isn't afraid to attempt slam dunks with high degrees of difficulty.
"I'm the guy on the team who will always try any dunk. Like if a little kid asks me to try a behind-the-back dunk, I'll do it. It's something me and coach Self always joke around about, how I miss a lot of dunks," Stewart, Kansas University's senior guard from Seattle, said with a big grin.
The 6-foot-4 Stewart, who always is willing to put on an impromptu dunk drill for the 8- to 18-year-olds at Bill Self's basketball camps, caught a lob from teammate Mario Chalmers last Wednesday afternoon and did not misfire.
He ripped home a vicious slam to conclude the scoring in a 75-70 victory over KU's alumni team in Allen Fieldhouse.
"It was weird. Me and Mario joked around about it before the game. It was something Mario and B. (Brandon) Rush always did in games," Stewart said. "Every time Mario drives, B. Rush cuts to the hoop (for lobs). B. Rush isn't playing right now, so it's like, 'Let me try it and see what happens.'
"We both looked at each other, made eye contact. He threw it up there, and I got it."
Stewart said he has felt extra bounce since a dramatic weight loss.
"The summer's been going well. I've already lost 15 pounds," reported Stewart, who weighs 203 pounds. "I'm getting quicker and faster. It (loss of weight) helps me elevate. I'm bouncier, more explosive. I always want to jump around. It has helped my game all around."
Stewart said a healthy diet - combined with work in the gym - have helped him take off excess pounds.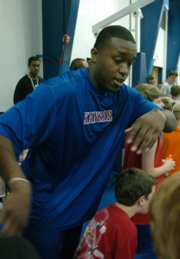 "Me and Sherron (Collins) work out every day together running and conditioning. We're kind of like workout buddies this summer," Stewart said of he and the 5-11, 197-pound Collins. "It can't hurt me, losing weight. I still have my strength. It always helps to be a little faster, quicker, stronger."
Stewart said he had been preparing hard for his final season of college basketball.
It's likely he'll be counted on heavily - at least in the early going - until Rush returns from right ACL surgery.
"It definitely opens up minutes because he's down. While he's down, we've got to all try to fill in his spot. Everybody has to fill in little pieces," Stewart said of Rush, who figures to return to game action in late November or early December.
Fifth-year senior Stewart, who is taking two classes this summer (Math, African American studies), reports he's on target to graduate in May.
His twin brother, Lodrick Stewart, recently completed his eligibility at Southern Cal, where Rodrick started his career.
Lodrick Stewart has hopes of being selected in the second round of the June 28 NBA draft.
"He definitely has a shot because he is one of the premier shooters in the nation," Rodrick said. "I don't know about his status of being drafted. It's not my decision. I hope he gets drafted because he's my brother. It's everybody's dream to be taken in the draft. I know it's a deep draft. I heard it's one of the deepest ever.
"It's not end of the world if you don't get drafted. You still can play basketball, continue to get better. He'll do what he has to do to get there."
¢ Osby to MSU: Romero Osby shocked the recruiting world on Monday by orally committing to Mississippi State.
Osby, a 6-8, 230-pound senior-to-be from Northeast Lauderdale High in Meredian, Miss., had been considering Kansas, Louisville, Memphis, Kentucky, Georgia Tech, Texas, Alabama and others.
"It's a situation for me to improve and be an impact player in the SEC. My family is behind my decision, and I want to get the weight off my shoulders. The recruiting process can be a burden," Osby told Rivals.com.
¢ Change of heart: Texas A&M; coach Mark Turgeon received an oral commitment on Sunday from Anthony Jones, a 6-9 senior from Yates High in Houston.
On Monday, Jones decommitted. He has a final list of A&M;, Baylor and Texas.
"I want to let you know that my son still has his options open. I wasn't there for the interview, and I should have been there," Jones' mother, Dee Curtis, said of a TV interview in Houston in which Anthony pledged to the Aggies. "I'm his mom, and I know he was coerced into committing. I know my son, and I'm sure he just said what he said to get them out of his face."
"I agree with everything my mom just said," Jones told Rivals. com. "I was rushed into committing, and I still want to weigh my options."
Copyright 2018 The Lawrence Journal-World. All rights reserved. This material may not be published, broadcast, rewritten or redistributed. We strive to uphold our values for every story published.