With the high schoolers occupied during a scrimmage at Bill Self's Elite basketball camp Saturday, Kansas University's incoming freshmen used the 45 minutes to hoist 600 jump shots.
"We didn't want to just sit around and waste time," Conner Teahan said. "We're kind of like that. We like to work hard."
Although the summer has just begun, the four incoming freshmen - Teahan, Cole Aldrich, Tyrel Reed and Chase Buford - already have started to bond through hoops and school. All four, for example, are enrolled in an Introduction to Sociology course.
Before heading to class, the freshmen arise at 7 a.m. to work on individual drills. After class, they lift weights at 3:30 p.m., then play pickup games in the evening.
"Our whole class definitely knows each other a lot better now," Teahen said, "and it's only a week into the (summer) season."
The last week has been a whirlwind for Aldrich, KU's most ballyhooed recruit. The McDonald's All-American participated in his high school commencement Thursday in Bloomington, Minn. The subsequent graduation party lasted until 5 a.m., and he reported to the elite camp later that day.
"I've been running everywhere," said Aldrich, who rooms with Reed. "It's going to calm down a little bit here."
Aldrich said he wants to use the summer to improve all facets of his game, but particularly his footwork and strength.
Buford, who missed his entire senior season at Alamo Heights High in San Antonio, Texas., with an enlarged spleen, has set a goal of returning to basketball shape.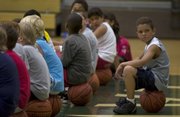 Buford, however, suffered a slight setback when he rolled his right ankle in a workout. Although his ankle was wrapped, Buford was able to put his full weight on it.
"It's not too bad," Buford said. "It's kind of a precautionary deal."
Buford, son of San Antonio Spurs general manager R.C. Buford, planned to return to San Antonio on Saturday night so he could watch to watch today's Game Two of the NBA Finals between the Spurs and Cleveland Cavaliers.
During Saturday's Elite Camp, administrative assistant Brett Ballard ran the five-on-five games as the high schoolers scrimmaged against each other. The four KU freshmen played with the teenagers on Friday afternoon and on Saturday morning.
"We're pretty much campers," Reed said with a smile.
Travis Relaford, a guard from Roeland Park Miege and probably the highest-profile high schooler at the camp, attended Friday's session, but was not on hand Saturday.
Deion Dixon, a 6-foot-3 guard from Sherron Collins' alma mater of Crane Tech in Chicago participated in both sessions. A good friend of KU sophomore-to-be Collins, he expressed interest in becoming a Jayhawk if the school recruits him.
"It was very intense," Dixon said of the camp.
The Elite Camp ended Saturday, but Self's five-day all-ages camp will start at 3 p.m. today.
Copyright 2018 The Lawrence Journal-World. All rights reserved. This material may not be published, broadcast, rewritten or redistributed. We strive to uphold our values for every story published.