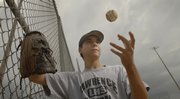 When coaches and fellow players hear about Tanner Kilmer's unique baseball talent, they usually have the same response: Prove it.
There is reason for skepticism among Kilmer's baseball compadres. Switch-hitting is something that plenty of players have pulled off. Switch-throwing, on the other hand, is seldom seen.
Kilmer, 15 and a sophomore at Lawrence High, understands the rarity of his ability leads to disbelief among those he encounters, and he doesn't mind proving himself by firing throws left- and right-handed.
At Lawrence High baseball tryouts this year, coach Brad Stoll said, everybody stopped what they were doing and watched Kilmer, who usually throws left-handed, to see what he could do with his right arm.
Lions players, like any other skeptics Kilmer encounters, came away impressed. Kilmer, who usually pitches and plays first base left-handed, said his right-handed throwing isn't quite as effective, but it is good enough to wow onlookers.
Kilmer didn't put his ambidextrous skills to work during game action for Lawrence's "C" team in the spring, but in the past, while playing for various youth teams such as the 88s, he often pitched with both arms and sometimes did so in the same game and left some mouths agape in the process.
"They were like, 'Whoa,'" Kilmer recalled.
Wilson Kilmer, Tanner's father, coached his son throughout his youth baseball career and said when Tanner occasionally switched throwing arms between innings, it proved confusing for opponents, who thought there was a new pitcher on the mound before realizing it was the same kid.
The elder Kilmer said Tanner first started using both hands at a young age after having corrective surgery. Tanner was born with two thumbs on his right hand, and when he was 11 months old, his parents decided to have the extra part of the thumb removed.
Wilson Kilmer, who was a pitching coach at Kansas University from 1988 to 2002 and now is an instructor with Home Plate Baseball, said Tanner had the surgery a week before the Jayhawks went to the College World Series in 1993.
It was at the Series in Omaha, Neb., that Tanner, who was wearing a cast, started rolling balls around with his left hand. His father knew the premium baseball teams put on left-handed hurlers and sought to develop Tanner's south paw as he grew up playing the game.
"We just kind of let it play out for a while," Wilson Kilmer recalled. "Once he started doing some stuff left-handed, I wanted to try to bring that along, but I didn't force it. I got him a glove for both hands - whichever way he wanted to go - and we worked on both sides a lot."
Once Tanner Kilmer started participating in T-ball and coach-pitch leagues, he grew fond of playing first base, and his left appendage became his arm of choice on the diamond, even though he does everything else - including batting and bowling - right-handed.
Now that he's older and playing on a higher competitive level for Lawrence High and the junior American Legion Desperados, Tanner doesn't pull the old switcheroo much anymore.
"I'm usually just all lefty," he said, pointing out that if he hopes to pitch right-handed in the future, he'll have to work at it more because the right arm has fallen a bit behind the left when it comes to the velocity and movement on his pitches.
"I may try to practice pitching righty more," Tanner said. "I'll probably have to catch (the right arm) up a little bit."
Stoll, who coaches the Desperados during the summer, said Kilmer's unique talent is something he and his Lawrence High staff will look at developing over the next few years.
"It's definitely something that can provide an advantage for our team and for Tanner," the Lions' coach said.
"His dad is a great pitching coach, and he works with him year-round," Stoll said. "Between the work he gets with our pitching coach and the work he gets with his father, both arms should be very useful and something we can use on down the road."
Stoll said Tanner's upbringing has made him all the more effective as a pitcher.
"He's a coach's kid," Stoll explained. "His baseball IQ is off the charts. He understands how to pitch; he knows how to set people up and understands the value of hitting locations."
Whether or not Tanner Kilmer is doing that in an ambidextrous fashion depends on how much he works at it, and he said putting in twice as much time on the diamond is the biggest challenge that comes with his skill.
But Stoll won't be surprised if Kilmer proves he can throw from both sides as a high school pitcher.
"He's not afraid of a good challenge," Stoll said.
Copyright 2018 The Lawrence Journal-World. All rights reserved. This material may not be published, broadcast, rewritten or redistributed. We strive to uphold our values for every story published.