San Antonio — It's pretty apparent when you listen to Adarius Bowman talk: He's made for the spotlight.
Oklahoma State's standout wide receiver has his own Web site (bowman12.com) and now is featured prominently on the cover of the Cowboys' media guide. He's holding an iPod toward the camera with a picture of him in it.
His "play" list.
"You can't feel bad about it," Bowman said of the attention. "I love it, man."
Thanks to the progressive efforts of Oklahoma State to publicize him (coupled with Bowman's outgoing personality), the OSU senior has become one of the big-name receivers in a conference full of wideout talent.
Shuffle through the names: Bowman, Texas' Limas Sweed, Iowa State's Todd Blythe, Oklahoma's Malcolm Kelly, Nebraska's Maurice Purify and Terrence Nunn and Missouri's Will Franklin. All could have dazzling All-Big 12 resumes by the end of the year. Only two will get first-team honors (Bowman and Sweed were the preseason picks).
Add sleepers like Kansas State's Jordy Nelson, Kansas University's Marcus Henry and Dexton Fields and Texas Tech's Danny Amendola, and there's certainly a talented logjam of star power catching footballs in the Big 12.
"I think the Big 12 is starting to pass the ball a lot more," said Henry, who had 25 catches for 316 yards last year. "There's a lot of receivers that are pretty good."
Many offenses - especially Texas Tech and Baylor - place heavy emphasis on airing it out, which pads statistics. Bowman and Sweed had a chance to jump to the NFL but passed for another year of the college game.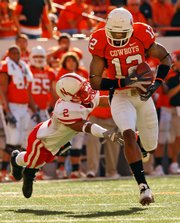 Cornerbacks, therefore, won't be getting many plays off this season.
"Everybody in this league is very good on offense," Kansas State coach Ron Prince said Wednesday at Big 12 media days. "Everybody has a receiver that you can't cover one-on-one."
Bowman might head the talented class. A transfer from North Carolina, Bowman broke out last season against Kansas, catching 13 balls for a conference-record 300 yards and four touchdowns. He finished with a league-best 60 receptions for 1,181 yards and 12 scores.
Since Bowman worked primarily out of the slot against KU, the Jayhawks' top cornerback, Aqib Talib, didn't get many opportunities to cover him. Bowman blew up as a result, putting up his best numbers since racking up 308 yards and six touchdowns in a high school game.
Still, he's hungry for more.
"I think I'll have a better game. That's one of my goals this year," Bowman said. "I'm always ready for the ball."
So is Sweed, an already decorated 6-foot-5 horse who had 46 catches for 801 yards a year ago. Sweed was one of the catalysts for UT's 2005 national-title run, and is back for one more year before joining the pro ranks.
Audio Clips
Big 12 Media Day 2007: Day 3
"He's pretty good, and he knows how to use his body pretty well," Henry said of Sweed.
Several of his peers, including Henry, think Sweed is the best receiver in the conference. Sweed, though, said part of what makes him good is watching everyone else at work.
"I try to watch them all and see what different guys do," Sweed said. "I'm always a receiver. I'm always working on my craft."
Sweed and Bowman have overshadowed the terrific resume of Blythe, an Iowa State senior who stands 6-5 and has been Iowa State's go-to target for four years now.
Blythe had just 484 yards receiving last year, which probably knocked him off the preseason All-Big 12 team. Still, he had 51 catches for 1,000 yards in 2005 and is a former All-Big 12 wideout. Part of the reason his numbers declined was a bout with mononucleosis that sidelined him for three games. He's subsequently entered the season a little less noticeable than some of his peers.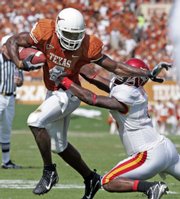 "I don't think he'd be underrated if you ask any of the coordinators," Iowa State quarterback Bret Meyer said. "I hope he is. I hope he gets single coverage a lot. After the first couple of games, that'd take care of that, and we probably wouldn't see it for the rest of the season."
Bowman, Sweed, Blythe, Maurice Purify and Malcolm Kelly all stand 6-4 or 6-5. So, too, does Henry, who's slated to be KU's X-receiver in 2007.
They're big, they're good, and they're now taking in nonstop attention as the 2007 season looms.
It could be a prelude to a high-flying year in Big 12 football.
"It's a lot of big name guys, a lot of guys getting a lot of pub," Kelly said, "and they're very deserving of the pub they're getting."
Copyright 2018 The Lawrence Journal-World. All rights reserved. This material may not be published, broadcast, rewritten or redistributed. We strive to uphold our values for every story published.