San Antonio — In the grand scheme of things, Big 12 Conference football media days can be just a tad bit silly, can't they?
Here's Mark Mangino, coach of the Kansas University football team, at one of many stages set up all over the St. Anthony Hotel on Monday. He takes a swig of water, then says hello to the group gathered around him before speaking the absolute truth of the circus he's now swirling around in.
"You can't possibly ask me a question I haven't heard," Mangino quipped. "But that's OK. That's media day."
This indeed is media day, a nonstop chaotic scene of reporters, players and league officials gathered together in downtown San Antonio to kick off the 2007 college football season.
By the time the event wraps up Wednesday, all 12 of the league coaches will be on hand as well as roughly 35 players, including KU's Aqib Talib, Brandon McAnderson and Marcus Henry. All of them will have positives thoughts regarding the 2007 season, which makes the preseason heaven for fanatics everywhere.
The players - especially the outgoing Talib - all were in high demand Monday, but none quite like Mangino. The television reporters pepper KU's sixth-year coach with questions, most of which he had heard before. The sports-information directors check their watches to make sure he's on schedule. KU's three players lurk in the background, waiting to be told where to go next.
Reporter: What's your opinion of the Kansas-Missouri game being moved to Arrowhead Stadium in Kansas City?
Mangino: I think with the landscape of college football the way it is now, you have to be willing to try new things.
He's heard that one before. After 45 minutes of similar questions and similar answers, Mangino is taken off of that podium to make room for Nebraska coach Bill Callahan.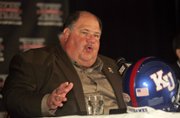 He's not done, though. Mangino is escorted down the hallway toward another room full of media types. A television station stops him on the way and asks two questions. He then says hello to Jackie Sherrill, a former college coach now amongst the media members. He then wiggles free and heads in to talk to more television guys.
It's an elaborate setup: Four podiums, four KU representatives. Ten minutes of interrogation, rotate, start it all again. Probably with the same questions.
Reporter: With the schedule the way it is, do you feel this is the year you need to make your move?
Mangino: Well, what's my move?
Mangino and other coaches occasionally bring humor to what can be a cliche-riddled day. He knows what the reporter is getting at, and he gives in and provides a clearer answer after a scattered chuckle.
"I don't know if this is the year we need to," Mangino said, "but I plan on it. I think our players do, too. I don't know if we need to, but we plan on doing it."
After the interviews address a number of topics from Talib's list of preseason honors to losing running back Jon Cornish to - big surprise here - who's going to start at quarterback, Mangino is whisked away again, this time toward the radio guys down the hall.
Audio Clips
Big 12 Media Day 2007: Day 1
But, of course, not without getting interrupted. An Oklahoma writer stops him to inquire about defensive end Russell Brorsen, and another television crew asks questions that - get this - Mangino has heard before.
Before he sits down in the middle of a circle of radio microphones, Mangino positions himself behind two reporters interveiwing Talib and makes a yapping motion with his left hand, teasing his star cornerback about his talkative ways.
He then sits down and yaps himself. Talib was too busy talking to tease his coach back.
Reporter: How has recruiting improved?
Mangino: Just like the program. Slow and steady.
Nebraska media ask about the Kansas-Nebraska game on Nov. 3, which remains nine games away from Mangino's consciousness. A radio guy with broken English asks who Mangino would rather beat: Kansas State or Missouri?
"I'd rather win them all," Mangino responded, not taking the bait.
Questions about the football facility pour in. Questions about finishing close games are rattled off. Questions about KU's troubles on the road are directed toward him like they are every year.
"We're good at home," Mangino said. "The next step is to get good on the road."
Mangino patiently answers them all, though you wonder how a coach doesn't pull his hair right out of his scalp and run away from the madness.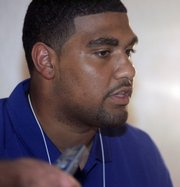 Reporter: Are you okay with (Aqib Talib) sounding off every once in a while?
Mangino: He's a good kid. I think he plays around with the press a little bit. He's a really smart guy, and sometimes he gives you what you want. He plays that game with you.
On this day, Mangino's playing that game too. Time's almost up, but Mangino agrees to appear on a live radio show down the hall before calling it a day. Of course, he's stopped by another reporter en route, needing just a minute of his time. He obliges before heading into a room full of radio guys doing their live shows. On the way in, Mangino passes McAnderson, who's nose is buried in the new KU media guide.
When the eight-minute radio spot wraps up, the KU gang gathers to head toward the airport and back home to Lawrence. Mangino asks if Talib's tongue is now completely dry and answers a couple of more questions from a newspaper reporter before letting his voice have a much-needed rest.
Reporter: Some of the players said eight or nine wins was the number. What do you think?
Mangino: I was thinking 12.
An optimist. At the hectic Big 12 media days, that's really all there is.
Copyright 2018 The Lawrence Journal-World. All rights reserved. This material may not be published, broadcast, rewritten or redistributed. We strive to uphold our values for every story published.