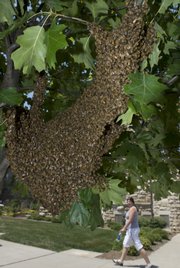 A swarm of bees created a buzz Tuesday afternoon on Kansas University's campus.
An estimated 3,000 bees left the hive that is part of an exhibit on the sixth floor of the Natural History Museum.
Bees can come and go through a tube at the museum, but seldom leave in such a large group. The last time it happened was 14 months ago, said Jen Humphrey, communications director for the museum.
She said there were about 1,000 bees left in the museum's artificial tree after the others left in search of a new home.
Danny Najera, a Kansas University graduate who studies bee cognition, said the move was part of the bees' reproduction process. When a hive reaches a certain size, the queen bee will leave along with other bees in search of a new location. Meanwhile, the bees left behind will produce a new queen bee. He said the swarm that left was smaller than most, which can contain up to 10,000 bees.
Najera said the bees don't stray from their queen.
"They stick together based on chemical cues," he said. "The queen emits a fair amount and the bees swarm around it. It kind of looks like a comet of bees and right in the middle, sort of the epicenter, would be the queen and the bees just tag along and stay around the chemical."
The swarm temporarily located in a small tree in front of the museum along Jayhawk Boulevard, where the bees were at eye level to passersby.
Najera and a couple of other KU graduate students tried to lure the bees into a box by lacing it with a substance that would attract them. The plan was to transport them to KU's West Campus, where there are an estimated 17 hives. Those hives have between 20,000 and 100,000 bees, Najera said.
But the plan didn't work. The bees decided to move to the top northeastern corner of the seven-story museum where they seemed to have settled in.
Najera said the bees were harmless to the building and humans, unless anyone messed with them.
"When they are in a swarm like that, they are completely unmotivated to sting," he said.
Humphrey said the museum was proud of its live bee exhibit, especially with national concerns about the declining bee population.
"That's one of the reasons we are really happy that we have a live bee exhibit here," she said, "because it gives us a chance to learn more about them and share them with the public, and when they fly off like that, it's another opportunity to learn a little bit more."
Copyright 2018 The Lawrence Journal-World. All rights reserved. This material may not be published, broadcast, rewritten or redistributed. We strive to uphold our values for every story published.