Photo Gallery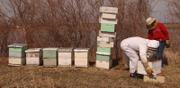 Bee hives
A disease suspected in the death of millions of honeybee colonies across the country doesn't fly right with Chip Taylor, Kansas University biology professor.
There are too many possibilities, making it difficult to predict what's causing the disappearance of bee colonies, he said.
"It's not clear that there is a real issue here involving a disease," Taylor said. "A lot of this is portrayed as a disease, and what it looks like to me is that there are probably six or seven causes.
"This situation is very reminiscent of the disappearing disease 30 years ago," in which many bees left their hives and never returned.
The current crisis, tentatively named the colony collapse disorder, or CCD, has threatened the pollination industry and commercial honey production, with some commercial migratory beekeepers losing up to 90 percent of their colonies.
But in Kansas, the bees aren't disappearing, they're just dying.
Tony Schwager, who owns and runs Anthony's Bee Farm, 1804 N. 1100 Road, southeast of Lawrence, said he has lost more bees to starvation than disease.
"This winter was a lot worse as far as death loss," he said. "We're going to have to go this spring and buy some bees, which will cost about $3,000 in replacing the bees we lost."
Schwager said bees didn't store enough honey in the fall and the winter was long and cold.
He said when the mystery of the colony collapse disorder is solved, he suspects people will find the deaths and disappearances are due to problems such as weather conditions or overuse of chemicals.
Maryann Frazier, entomologist at Pennsylvania State University, who is part of the newly formed CCD Working Group, said there are new characteristics that prompted her and researchers at six other universities and laboratories to examine the disorder more closely. She said beekeepers think this is the same old thing and the industry won't survive such severe conditions.
But Taylor said he's optimistic the bee industry will recover. He's already seen an increase in the local wild bee population. He said beekeepers who lose 20 percent to 30 percent of their hives can make it up in April, but those who lose more will face financial hardship.
"It's not a precise science," he said. "You're trying to match wits with weather. I make mistakes every year, it's just the nature of working with bees and the nature of dealing with an insect we don't understand."
Copyright 2018 The Lawrence Journal-World. All rights reserved. This material may not be published, broadcast, rewritten or redistributed. We strive to uphold our values for every story published.