Lenexa — Falcon Ridge could have passed for Jayhawk Ridge on Monday afternoon when Jayhawk greats and alumni from Kansas University migrated to the golf course in Lenexa for the inaugural Legends of KU Kansas City Golf Tournament.
The four-person scramble tourney, held by the Kansas City Chapter of the KU Alumni Association, featured Jo Jo White, Walt Wesley, Bud Stallworth, John Hadl and Wes Santee, to name a few.
Greg Gurley, tournament chair and former KU men's basketball guard, said holding this tournament was long overdue.
"There's obviously a ton of alumni in the Kansas City area, so we got a good group together and put together this tournament and had unbelievable support," Gurley said of the fundraiser that benefited the Jayhawk Generations fund, which provides funding for state and nationwide alumni programs.
"We got a lot of cool legends to come out," Gurley added. "I mean, Jo Jo White's in town. That's pretty impressive."
White, a KU guard from 1966 to 1969, said his golf game wasn't too shabby.
"I can play. Period," the two-time basketball All-American boasted, noting that his front-office community-relations position with the Boston Celtics, which calls for him to interact with corporate sponsors and season-ticket holders, keeps him out on the links with regularity.
"I don't have any weaknesses : depending on which day it is," White joked.
The inability of former athletes to play golf was a running joke on a hot July afternoon.
Before former KU linebacker and 2005 Big 12 Defensive Player of the Year Nick Reid teed off, he summed up his personal expectations: "Probably a lot of hooks and a lot of slices and maybe a few fairways in there."
Reid was glad to be teaming up with fellow football alumni Bill Whittemore, Harrison Hill and Chip Budde, but wasn't very confident about the group's chances of winning.
"If they're as good as I am, then we won't," Reid said. "But hopefully they're a little bit better than me."
Whittemore, a KU quarterback and teammate of Reid's in 2002 and 2003, echoed those sentiments.
Photo Gallery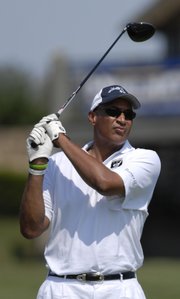 Legends of KU Kansas City Golf Tournament
"I'm definitely just out here for fun today. Especially when I see who I'm teamed up with," Whittemore joked. "I figure Nick's probably swung a golf club two or three times, and I know Harrison borrowed clubs before he came out here today : it could get ugly."
Some swings were prettier than others, and former Jayhawk hoopster Bud Stallworth said it helps to look the part of a golfer who has teed it up before.
"I'm probably a pretty average golfer, but I talk like I can really play. And I'm a competitive guy, so I look like I can play," the 1972 Big Eight Conference Player of the Year said with a laugh.
Stallworth said the biggest strength of his golf game was his driving.
"My strength is that I can get off the tee box, my weakness is once I get off the tee box, I get confused. From 130 yards in to the green, it's who-knows-what," the former All-American forward explained.
When the Alumni Association contacted Stallworth about the outing, he immediately signed on.
"It's always nice to see your friends, especially guys that are kind of responsible for where you're at today," he said. "And any time I get a chance to have a moment or two with Max Falkenstien (the longtime broadcasting voice of the Jayhawks who played in a group with Stallworth, White and Wesley), I've got to jump on that."
White said hitting a golf shot can be similar to hitting a jump shot.
"Certain things happen - the ball bounces your way every now and then, errant shots sometimes bounce in - it's the same thing with the golf game," White, a KU Hall of Fame member, said.
Although White, who resides in the Boston area, doesn't visit Kansas as much as he'd like, he said he thinks that could change in the future.
"I hope to get back more," he said. "We're trying to do some things now with alums that bring the alums back, and I think that's important for the university."
That's what Mike Davis, senior vice president for KU alumni programs, likes to hear.
"It's been a huge success," Davis said of the tournament. "We've had nothing but rave reviews about how it's been put together."
Copyright 2018 The Lawrence Journal-World. All rights reserved. This material may not be published, broadcast, rewritten or redistributed. We strive to uphold our values for every story published.