Lawrence High dominated Kansas high school volleyball during the latter quarter of the 20th century.
"You were there to win," said recently hired LHS volleyball coach Stephanie Magnuson. "It was the Lion way or it was no way."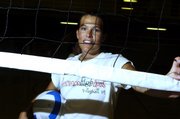 From 1971 to 1997, former head coach Joan Wells led the Lions to 22 Class 6A state championship matches, with her teams winning 15 of those. LHS, which reached the state tournament every year except 1971, also went undefeated in the back-to-back seasons of 1989 and 1990. During 1995 the team did not lose a match or a game.
But LHS has fallen on hard times of late. Although the Lions reached state last year, they finished with an underwhelming 13-26 record. In 2005 the record stood at 14-24.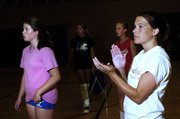 "(Magnuson's) going to have to build the program," Wells said. "It's going to take some time. I don't think it's something (where) we can come back in one year."
Next year's squad, however, will feature a strong link to the glory days. LHS hired Magnuson, a setter on the state championship teams of 1994 and 1995, as head coach May 16.
Despite a height disadvantage in a sport designed for the long-legged - Magnuson calls herself "5-4 with shoes" - she starred at LHS and Southwest Texas State University because of intangibles, which should leave her well-suited to coach.
"She is not someone where you would look at her and physically think that this is an outstanding athlete, but she was a team player and a leader," Wells said. "I expect her to have lots of success at Lawrence High school."
Magnuson said she learned discipline and consistency from Wells. During Magnuson's senior year in 1995, Wells called just one timeout all year, which occurred when the team fell behind 8-0 to Blue Valley Northwest. The intimidating coach turned to the squad and asked, "Do you want to ruin your season?"
The players responded, winning that game and every other that season.
"Her presence was always known," Magnuson said. "You just always played at your best when she was around. And when she wasn't, you still did because you were worried she was lurking somewhere."
The Lions will not match the accomplishments under Wells' reign. That is not an indictment of Magnuson or her girls but the reality of the local sports situation. Before splitting into Lawrence High and Free State High in 1997, LHS had the monopoly on local talent, and the varsity team featured only the best of the best.
"Things are much different now," Wells said. "The expectation of the athletes are different. When we had one high school, it was such an honor just to make the volleyball team at Lawrence High School. It's something kids dreamed about all through junior high."
Magnuson is careful not to compare her squad to those of years past. The LHS alumna, who coached volleyball the last three years at La Quinta (Calif.) near Palm Springs, has made a habit of letting her teams set their own objectives rather than imposing them.
"It's up to them," she said. "They need to make their goals. My goal is to get them as far as they want to go."
She already has gained an understanding of her team. After having coached them during a four-day camp earlier in the summer, Magnuson now sees them during Red Dog's Dog Days conditioning workouts and e-mails them regularly.
"Their hearts are huge, and they're ready to play," Magnuson said. "I am very excited. I have just a wonderful group of girls. They're working so hard, and they're a very positive group."
The job serving as head coach to those girls became available for Magnuson when last year's coach, Molly LaMere, accepted the head-coaching job at Blue Valley Northwest. Both LaMere, a former Kansas University volleyball star, and Magnuson provided instruction during this week's Ray Bechard's Summer Skills Camp at KU. Although Magnuson picked her brain a bit, she did not inundate LaMere with questions about the girls, preferring to start with a clean slate during this fall.
"I don't want any preconceived notions," Magnuson said. "I want to go in with a fresh look at these girls. I don't want to know what they've done in the past. I want to know what they're going to do this year."
Copyright 2018 The Lawrence Journal-World. All rights reserved. This material may not be published, broadcast, rewritten or redistributed. We strive to uphold our values for every story published.