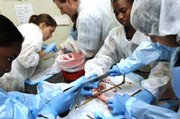 Women are traditionally underrepresented in the field of engineering. At the Kansas University School of Engineering, only 19 percent of the students are women. But a summer KU camp is trying to change that.
Project Discovery Engineering Camp invites high school girls from all over the country to learn about different fields of engineering, as well as the KU School of Engineering. This week's camp lets the 20 students choose one of three concentrations of engineering to focus on - architectural, biomechanical or civil and environmental engineering.
KU engineering professors and graduate assistants help teach classes and lab sessions similar to those the students would receive in college.
Lorin Maletsky, associate professor of mechanical engineering, leads the biomechanical section of the camp. He said the biomechanical engineering field is growing in popularity because of its high demand in the medical profession.
That demand is why many of the students were interested in the field. Taylor Banks, a high school senior from Orlando, Fla., said she did not know much about engineering before the camp but now may be leaning toward a major in biomechanical engineering because of its career potential.
"It's been more than expected," Banks said. "I just thought I was going to be bored with lectures all the time."
Jennifer Carlson, a recent graduate of El Dorado High School, is enrolled in fine arts at KU but attended the camp to learn more about the possibilities of medicine and biology-related occupations in engineering. She, like Banks, is leaning toward an engineering major.
Maletsky said a variety of jobs arise from the field, including prosthetics and other body engineering needs.
"It's basically taking engineering knowledge and applying it to the body," he said.
Throughout the week, the students will get hands-on experience with their chosen engineering subject. For example, the biomechanical section on Tuesday dissected a pig to examine its joints.
Florence Boldridge, director of diversity programs for the School of Engineering, said this is the 10th year of the girls' two-session camp. Last month, KU played host to a session for high schools girls interested in electrical engineering and computer science, chemical and petroleum engineering, and aerospace engineering.
Over the past decade, 71 of the nearly 400 students who have come to the camp have later attended the KU Engineering School, Boldridge said.
"We are trying to get students to learn that this is a viable option for women," Boldridge said. "The main thrust after that is to get them to go to the university."
Copyright 2018 The Lawrence Journal-World. All rights reserved. This material may not be published, broadcast, rewritten or redistributed. We strive to uphold our values for every story published.