Photo Gallery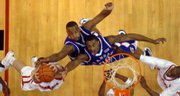 KU vs Nebraska
Lincoln, Neb. — Kansas University, a team some have accused of playing to the level of its competition, has been pounding so-called inferior Big 12 basketball foes of late.
The Jayhawks on Monday turned Nebraska's "Red Out" promotion into a true blowout, smashing the Cornhuskers, 76-56.
It followed Saturday's 97-74 home win over Colorado, and last week's 82-56 clubbing of Baylor in Waco, Texas.
The Baylor victory was KU's most lopsided road win in the Bill Self era. Monday's win the third-biggest win on the road under fourth-year coach Self, just a point under last year's 21-point victory at NU.
"Hopefully we are maturing and becoming a basketball team," Self said.
"They look at the board every day: '40 days 'til the Big Dance starts,'" he added of the all-important NCAA Tournament. "It's not asking too much to be focused the whole time."
Audio Clips
2006-07 Jan. 29 KU-NU Hoops
Of the three-game sizz, he said: "I thought Baylor and tonight we played well. I didn't think we were great against Colorado. We scored 97, but we gave up 74. Colorado had scored just 43 against Nebraska and gets 74 against us."
KU was incredibly focused Monday, however, in building a 43-8 lead with 2:07 remaining in the first half.
The only question was whether the Jayhawks would hold NU under 13 points and set the record for fewest points allowed in a half in Big 12 play.
NU scored the final eight points of the half and finished with 16, three more than Baylor had against Texas in 2000.
"All we did the first half was tease ourselves. We teased our fans, teased the coaches because we came out at a level everybody expects us to play at," said Russell Robinson, who had nine points and four assists.
"We did it for 15, 16 minutes. That last couple of minutes, though, we let them have a little run, and it carried over to the second half."
However, the early onslaught quieted an NU crowd jazzed for a rare Big Monday appearance.
The promotion of giving each fan a white towel came in handy: Several fans put the towels over their eyes to hide what was happening on the court.
"We didn't plan to come out and blow them out like that," Rush said. "They were making no shots and ours were falling."
NU bricked 15 of its first 17 shots.
"We have to get the mind-set to bury a team," Rush said. "We let them get the mind-set they can play with us. They weren't buried. We still had the second half to go."
The Huskers outscored KU by seven points in the second half.
Copyright 2018 The Lawrence Journal-World. All rights reserved. This material may not be published, broadcast, rewritten or redistributed. We strive to uphold our values for every story published.