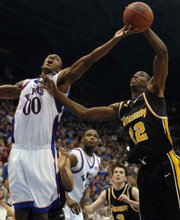 Waco, Tex. — Kansas University freshman Darrell Arthur, who led Dallas South Oak Cliff High to a pair of Texas large-class state championships the past two years, does not expect a hero's welcome tonight when he returns to the Lone Star State.
That's because the Jayhawks' opponent is Baylor - the school that finished runner-up last spring in a much-publicized recruiting battle for the McDonald's All-American.
"I think they will boo," Arthur, KU's second-leading scorer, said of the Ferrell Center faithful, who are expected to pack the 10,284-seat arena for a 7 p.m. tip.
How bad will the booing be?
"Real bad," he said with a grin.
He is well aware Baylor fans last spring salivated at the thought of Arthur - who prepped a short hour and a half drive from Waco - joining fellow hamburger All-American Tweety Carter in what would have been a top-10 recruiting class.
"It will be real awkward (tonight) because I was very close to their coaching staff," Arthur said of head coach Scott Drew and his assistants. "They are a program on the rise. I just have to compete real hard and help us go for the win."
Arthur said Drew "was pretty upset" last May 9 when Arthur informed him he'd chosen KU one day after postponing a news conference in which he was all set to announce for Baylor.
Drew, in fact, was devastated after learning Arthur had a dream in which he pictured himself running the court in a KU jersey.
"I just want to go jump in Lake Waco," Drew said at the time. "We had him and then we didn't."
Drew realizes Arthur would have made an imposing frontcourt with South Oak Cliff high school teammate Kevin Rogers, a 6-foot-9 BU sophomore who actually attended Arthur's media session, thinking - 24-hour delay or no delay - the player would select the Bears over the Jayhawks.
"It hurt a little," Rogers said of results of the news conference, "because I thought he'd come to Baylor. But he made the best decision for himself and his family. He's still a good friend, and we talk a lot."
Arthur respects his pal for not holding a grudge. Rogers forgave Arthur, as did Arthur's own grandmother, who at the time favored Baylor because of its proximity to Dallas.
"He was happy with my decision," Arthur said of Rogers, who leads BU in scoring (12.4) and rebounding (6.8). The two helped South Oak Cliff to a 32-7 record and state crown in 2004-05.
"He didn't want me to go to Baylor just because he goes there, and I respect that. He was trying to recruit me a little bit, but he just wanted me to do my own thing.
"He kind of wanted us to be apart from high school and see how things worked out, so I thought that was pretty cool."
Rogers actually almost attended KU a year before Arthur's arrival. The Jayhawks led for Rogers in recruiting until the day coach Bill Self landed a commitment from Julian Wright.
Copyright 2018 The Lawrence Journal-World. All rights reserved. This material may not be published, broadcast, rewritten or redistributed. We strive to uphold our values for every story published.