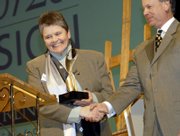 Consultant, motivational speaker and artist Erik Wahl used the Liberty Hall stage Friday night to issue a challenge.
During his program, "The Art of Vision," he furiously did paintings of the Statue of Liberty and Albert Einstein for hundreds of members of the Lawrence Chamber of Commerce during its annual meeting. This year's theme was "20/20 Vision."
"Stop trying to be perfect, and start trying to be remarkable," Wahl said as he related a story about encouraging creative ideas among his three young sons.
Wahl told Lawrence business and community leaders to expand their imaginations as a way to enrich the community economically and socially.
Not every challenge or problem needed to be solved in conventional ways, he said. Wahl also relayed several anecdotes about businesses around the country and their efforts to innovate and improve customer experience, like a Southwest Airlines pilot who eased frightened passengers' minds when he immediately told a joke and said they would not be charged for "a second landing" after the desert air caused a bumpy touchdown on the runway.
"You already enhance the community of the arts, of cultural distinction and innovation," Wahl told the Lawrence members. "Take it a step further."
He spoke the same night that chamber leaders talked about goals for this year and also honored three people for their achievements.
Lawrence resident Barbara Carswell, first vice president and regional coordinator for Capitol Federal Savings, received the 2006 Athena Award for her professional accomplishment, community service and work as a mentor.
Carswell said she was honored to have her name considered with past winners.
"Many, if not all of them, they've served as friends, role models and peer supporters and mentors. That really adds to the value of the award for me," she said of the honor sponsored by the chamber and Crown Chevrolet Toyota/Scion.
Allison Vance Moore, a vice president with Grubb & Ellis/The Winbury Group, Lawrence, was named the first Ambassador of the Year for recruiting dozens of new chamber members.
"It's just a little bit odd because it's such an easy thing for me to do," Moore said.
She said she enjoyed encouraging business clients to sign up for chamber membership. Moore missed Friday's meeting because she stayed home with her husband, Jim, and her son, Parker, who was born in December.
Tom Groene, retired president of CEK Insurance, was named winner of the Citizen of the Years Award for his service in the business community, the chamber and on various community boards in Douglas County.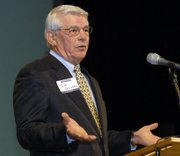 "It's kind of nice to think that 'Well, they put him in a group with those people who have received this in prior years.' It's pretty flattering," he said.
Also Friday night, Joan Golden, an executive for U.S. Bank in Lawrence, started her term as chairwoman of the Lawrence Chamber of Commerce, which includes 1,200 business members represented by 1,700 people.
She has outlined goals of member advocacy, engaging membership, delivering the chamber's message to the community, marketing the community and building alliances with the city and county.
"Try as we might, we can't see the future, but our actions can affect it," Golden said.
She accepted the leadership post from outgoing chairman Pat Flavin, president, managing broker and co-owner of Lawrence Realty Associates, Baldwin Realty Associates, Eudora Realty Associates and Topeka Realty Associates.
Chamber event
20/20 Vision- The Art of Vision with guest speaker Erik Wahl.
6:00-8:00 p.m. Liberty Hall: Social, Awards Program, The Art of Vision
8:30-10:00 p.m. Eldridge Hotel: Reception Buffet
Erik Wahl is a recognized artist and speaker who inspires professionals to achieve greater levels of performance. His consulting firm, The Wahl Group, challenges organizations to implement breakthrough thinking techniques to accomplish extraordinary results. Erik's unique understanding of vision traces back to his experience as an artist. Erik earned his bachelors degree in Business Communication before embarking on an eight year career as a partner in a corporate firm. After first working in the business world and playing with his art; Erik now PLAYS in the business world by WORKING with his art. Erik's sought after artwork can be seen hanging in executive offices around the world. And as one of the country's top platform speakers, Erik shares his powerful message with audiences from coast to coast.
Copyright 2018 The Lawrence Journal-World. All rights reserved. This material may not be published, broadcast, rewritten or redistributed. We strive to uphold our values for every story published.