Imagine the grand piece of art you could purchase for $600,000. Now, imagine that it's your tax dollars that are buying it.
In Lawrence, a community that proclaims itself as the City of the Arts, you might not have to imagine at all, thanks to a 20-year-old program called Percent for Art.
Established in the mid-1980s by a city resolution, the Percent for Art program is an effort to get city commissioners to spend 2 percent of the construction or remodeling costs of city buildings on public art.
Talk of a new $30 million public library has some people believing the program may be entering its heyday.
"We're very eager to see what might be happening with that project," incoming Arts Commission Chair Evie Rapport said. "We don't know what will happen with the library project, but I think a lot of people in the community are very excited about the art possibilities."
Other big-dollar projects that would boost the program also could be on the horizon. Although the $80 million wastewater treatment plant doesn't qualify for the program, new park land purchases that will be needed to meet a new quarter-mile park standard in developing parts of town would qualify. Talk of a future multimillion-dollar recreational complex could as well.
The dollars for new art could add up in a hurry. For example, with $600,000 - 2 percent of the estimated cost of a new library - Rapport said the community could purchase a destination type of art piece from a major painter or sculptor that would attract tourists. Or it could expand the city's art horizons by endowing a permanent poetry or music series, Rapport said.
The money also could be used to significantly increase the quantity of art in the community. Rapport estimated that $600,000 would allow the city to commission about 10 pieces of art that would be of similar scope and quality as the 18 pieces that already have been purchased through the program.
The Percent for Art program historically has had strong support from commissioners. A $65,000 sculpture for Fire Station No. 5 was unveiled Saturday. Commissioners recently agreed to commission a $38,000 piece of art for outside the entrance of the new Fire Station No. 4.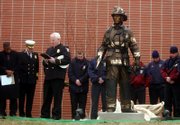 "I think it has been a really beneficial program to the city," City Commissioner Boog Highberger said. "We bill ourselves as a city of the arts. This is a good way to put our money where our mouth is."
Cost concerns
But Highberger conceded that $600,000 worth of art might be quite a mouthful. He and other commissioners said the commission should have a conversation about whether 2 percent was the amount of money that they wanted to set aside on large projects in the future.
"There are limits on what we can afford to do," Mayor Mike Amyx said. "As we have looked at the library project, we already have had to scale down because of the price tag. We need to always have discussions about costs."
A new library - which hasn't yet been approved by commissioners and also would need to win voter approval - isn't the only project commissioners may be asked to look at. Construction work is under way on a $40 million expansion of Lawrence Memorial Hospital. At 2 percent, that would result in $800,000 for the Percent for Art program. But City Manager David Corliss last week said that the hospital project would not be required to provide money to the art program.
Corliss said the hospital does not qualify because the project does not involve city funds. The hospital does not use any tax dollars for its building projects nor its general operations. It uses revenues that it generates from patient fees and private fundraising.
The resolution creating the Percent for Art program spells out that the construction of city buildings, parking garages, recreation facilities and parks are eligible. The resolution also states the project must require city funds in excess of $10,000 and are listed in the city's annual capital improvements plan in order to be asked to contribute to the arts program.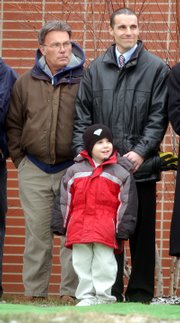 Voluntary program
Some Lawrence Arts Commission Board members were expecting the hospital to be part of the Percent for Art program because of its close ties to the city. Technically, the hospital buildings and grounds are owned by the city. The hospital board also is appointed by the City Commission. The hospital also must receive City Commission approval before it can issue any debt, even though tax dollars aren't used to pay for the debt.
In addition, the hospital is home to an existing Percent for Art project. In 2002, the Lawrence Arts Commission placed "Robots," a whimsical mechanical piece of art, in the hospital's children's unit. But Corliss said that although the piece is part of the Percent for Art program, the funding did not come from a hospital construction project. Instead, it came from a conglomeration of smaller projects throughout the city that did qualify as contributors to the Percent for Art program. The hospital was simply chosen as a location to display the art.
The Arts Commission met Wednesday and decided to ask Corliss for more information about why the LMH project was deemed to be ineligible, outgoing chair Marlene Merrill said.
"The Arts Commission discussed it and was disappointed by what we were told," Merrill said.
What is clear, though, is that city commissioners have the ability to exempt any project from the program. They also can choose to spend any amount less than 2 percent on public art.
Copyright 2018 The Lawrence Journal-World. All rights reserved. This material may not be published, broadcast, rewritten or redistributed. We strive to uphold our values for every story published.