The southwest corner of Sixth and Massachusetts streets is about to gain a spark of color.
The sculpture is the design of Stephen Johnson, a local artist who recently was commissioned to create a public art piece for the Lied Center.
"It's a big honor to create a lasting piece like this to celebrate the history of the town I grew up in," Johnson said.
The art selection committee chose Johnson's design over two other finalists: Richard Taylor of Milwaukee and Doug Coffin, a Lawrence native who now lives in Abiquið, N.M. A fourth finalist, Tom Otterness of Brooklyn, N.Y., opted not to submit a final proposal.
The Lawrence Arts Commission now must approve the selection, which it will discuss at its Nov. 10 meeting. If approved, the City Commission then would discuss the proposal Nov. 16.
Johnson's work uses the letters in the word "free" and makes them abstract to form a flamelike design. He said the design was reminiscent of both the flames of Quantrill's sacking of Lawrence in 1863 and the often-cited phrase "We have tomorrow bright before us like a flame," written by native son Langston Hughes.
"The freedom we enjoy has been won through great difficulty and hardship," Johnson wrote in his proposal. "There have been flames of hatred as well as the flames of the passionate belief in striving toward the good."
A model of the sculpture is on display through Oct. 25 at the Lawrence Public Library, 707 Vt. It will be placed on a limestone base at its permanent location.
The $50,000 project is funded by the city's Percent for Art project, which sets aside up to 2 percent of the city's capital improvement costs for art acquisition.
Richard Holzmeister, who chaired the committee, said the work would be an appropriate welcoming piece to those visiting downtown Lawrence.
"I like the simplicity of it," he said. "It's colorful. It fits in with what we were talking about the sesquicentennial, with the theme of 'free.'"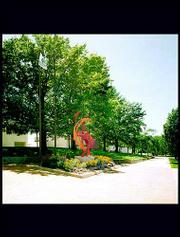 Copyright 2018 The Lawrence Journal-World. All rights reserved. This material may not be published, broadcast, rewritten or redistributed. We strive to uphold our values for every story published.