It was a businessman's special.
Mike Dever and Rob Chestnut, the two candidates with the deepest business backgrounds, took the top spots in Tuesday's Lawrence City Commission primary that narrowed the field for the April 3 general election from nine to six candidates.
"I think voters felt like business skills could be of good use to the City Commission right now," said Chestnut, chief financial officer for Lawrence-based Allen Press. "I think the financial skills are a big plus. There are a lot of complicated issues the city has to deal with."
Results in depth
Browse an interactive precinct map of election returns
Photo Gallery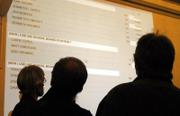 City commission primary election
-->
Marked by a low 14 percent voter turnout, the primary also brought mixed results for the two incumbents in the race. Commissioner Boog Highberger, an attorney for the Kansas Department of Health and Environment, finished in the third spot. Commissioner David Schauner, an attorney for the Kansas National Education Association, finished fourth. Only the top three vote-getters on April 3 win seats on the City Commission.
Rounding out the field of six are James Bush, senior pastor at Lawrence's First Southern Baptist Church, and Carey Maynard-Moody, a retired school social worker.
Jake Davis, a local musician and data entry operator; Sam Fields, a Lawrence bail bondsman; and Michael Limburg, a forklift operator, each finished about 2,400 votes behind sixth place. None collected more than 500 votes.
Dever, who owns a Lawrence-based environmental consulting firm, received the most votes. He collected 4,920 votes, or 20.8 percent of the total. He said the results suggested voters were responding to his message of creating a stronger economy for the community.
"I think the results could be interpreted as an opportunity to get new ideas and energy into the City Commission," Dever said.
Funding levels
Schauner, who finished 354 votes out of third place, had a different view on what voters were responding to - money. Dever and Chestnut were the top two fundraisers in the campaign, raising approximately twice as much as any other candidate.
"These results might be showing us nothing more than if you spend $23,000 you can come in first or second," Schauner said. "I think money has played a significant role in this election."
Through Feb. 19, Schauner had raised $9,202 for the race, while Dever and Chestnut both had raised more than $20,000.
Both Dever and Chestnut received endorsements from the Lawrence Board of Realtors, and Schauner has said he's concerned that the two candidates are intent on loosening the community's development regulations.
Dever and Chestnut have said their fundraising success is a sign of broad-based support from community members of all walks of life who are seeking a change on the City Commission.
Close finishes
Tuesday's results also did not leave any candidate so far buried that he or she is waving the white flag. Bush, in the No. 5 spot, is 544 votes out of third place. Maynard-Moody is 748 votes out of third place.
Bush said he was pleased with his showing, given that he did not decide until just days prior to the late-January filing deadline to get into the race.
"I knew getting in late would mean that I would have to play catch-up, but I think that is the best way to run a campaign because it makes you go as hard as you can," said Bush, who has sounded many of the same themes as Dever and Chestnut and who also received the same endorsement from the Lawrence Board of Realtors.
Maynard-Moody said she was disappointed in the low primary turnout. She said she thought the turnout was the result of the campaign lacking a hot-button issue.
"I'm really motivated to stand out," Maynard-Moody said. "I'm going to talk a lot about the future of our children and about how we're living in such different times."
Highberger also said he thought the remainder of the campaign needed to stress specifics from the candidates. He said he thought the City Commission had done a better job of fostering job growth than what has been portrayed to voters.
"I'm a little disappointed in the results," Highberger said. "I think it means that we just have to make sure that people understand all the good things we've done in the last four years, especially in the area of job creation."
It is assured that there will be at least one new face on the five-member City Commission. Commissioner Mike Rundle is not running for re-election.
City commission race 2007
City commission race
Copyright 2017 The Lawrence Journal-World. All rights reserved. This material may not be published, broadcast, rewritten or redistributed. We strive to uphold our values for every story published.