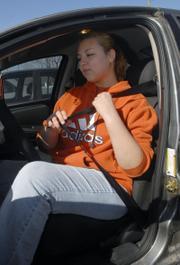 Audio Clips
No seat belt - a primary offense
When Daniel Green gets behind the wheel of a car, he knows the drill: He's supposed to buckle up.
"My mom and dad are always telling me to wear a seat belt," the Lawrence High School senior said. "But I kind of get in the habit not to."
However, the teenager said if he knew he had to wear it or a police officer could pull him over and give him a hefty fine, he wouldn't be so lax.
The Kansas Senate knows this, too.
On a 30-10 vote, the Senate approved a bill, SB 211, that would make failing to wear a seat belt a primary offense for drivers and passengers ages 14 through 17 in Kansas, punishable with a $60 fine.
Under the bill, which now goes to the Kansas House, law enforcement officers could stop young drivers solely because they don't look like they're buckled up.
The bill is one of two passed by the Senate last week that would affect teen drivers. A second bill, a graduated driver's license bill, also was approved by the Senate, but the vote was closer, 23-17, and it's not expected to get as much enthusiasm in the House.
In it, students wouldn't be able to have full driving privileges until they reach age 18. They could get a learner's permit at age 15 and a restricted license at age 16.
Seat belts more likely
Of the two bills, the seat belt legislation probably has the best chance of being approved this year, said Rep. Tom Sloan, R-Lawrence, who is a member of the House Transportation Committee.
However, Sloan said he personally favors keeping young drivers in training longer.
"Young people have quicker reactions than I do, given my age, but the experience I have makes me less likely to be in an accident," he said.
However, Sloan said the graduated license bill is hard to sell to some lawmakers because it has only been a few years since the Legislature passed restrictions for young drivers.
In contrast, data is available showing that seat belt use saves lives, Sloan said.
Drivers under age 18 represent about 7 percent of the state's drivers, but are involved in 13 percent of the state's fatal accidents, according to Sen. Les Donovan, R-Wichita, who chairs the Senate Transportation Committee.
"We kill many, many teenagers a year in the state of Kansas. And 85 percent of those killed are not wearing seat belts," Donovan said. "If that's not a statistic to cause someone to vote for this, I don't know what else you could tell them. I really don't."
Donovan also said that of the two bills, the seat belt law might be more likely to make it to the governor's desk.
"Two years ago, it got within eight votes of passing in the House," he said. "I'm hopeful from talking to the House Transportation chairman that the votes are over there to pass it."
The governor would like a bill to pass that would mandate seat belt use for all drivers and passengers. But Donovan said the political climate isn't right this year for it to pass.
"We obviously don't have the votes. We never have in the past, not even close," Donovan said.
Getting support
Jeannie Robinson, president of Free State High School's site council, said she supports the legislation.
"I would promote more restrictive teenage driving laws as opposed to less restrictive ones. I think the seat belt law would be a good one," she said.
Several students at FSHS also thought there was merit in making failure to use a seat belt a primary offense.
"It will make people safer," said Lauren Rhoades, 17, a junior, who says she wears a seat belt.
Nicholas Bradburn, 17, a senior at FSHS, said he also buckles up.
"It's probably a good idea, though, because I'm pretty sure you learn the most or retain the most at our age," he said.
Ali Jacobsen, a FSHS sophomore, said she didn't see how an officer could tell if a person was wearing a seat belt from a distance.
"I think it's a good idea, actually, because a lot of people who do get in accidents, they get injured because they're not wearing seat belts," she said. "Sometimes a seat belt could like save you from going through a front windshield."
Personal decision
Some Lawrence students disagreed.
"I can understand wearing a seat belt, but I don't think you should be pulled over for not having a seat belt on," said Tony Williams, an LHS senior. "It's hard to tell if someone is wearing a seat belt or not when they're driving."
Sylvia Yimer, another senior, also didn't like the law.
"I think that wearing a seat belt is a personal decision," Yimer said. "And I don't think they should fine you for not wearing one."
Yimer, who is 18, said if the bill does become law, age shouldn't even be a factor whether you're wearing a seat belt or not.
"No single life is more important than another," she said. "So if it is enforced, it should be enforced for everyone, not just that age group."
Key provisions of the Graduated driver's license bill
Here are key provisions of the graduated driver's license bill, SB 294, which was approved by the Senate 23-17 and forwarded to the House.¢ Age increase. The minimum age to apply for an instructional permit would go from 14 to 15 years old. Restricted licenses would be issued for ages 16 and 17. Nonrestricted licenses could be issued to drivers on their 18th birthday, provided they haven't had more than three traffic infractions. If they have, they would have to wait until their 19th birthday (a new provision).¢ Farm permit. The bill continues to allow students as young as 14 years old to be able to get a farm instructional driving permit.¢ No cell phone. The instructional permit holder and the restricted licensee would not be able to use a "wireless communications device" while driving. ¢ Longer training time. To get restricted licenses for vehicles and motorcycles, students would have to be at least 16 years of age (the current age is 15); have held an instruction permit for one year (current requirement is for at least six months); have completed a course in driver training (current law is the same); have an affidavit from a parent or guardian that the applicant has completed 50 hours of adult supervised driving, with at least 10 of those hours at night (current law is the same); and have not been convicted of a moving violation, violated seat belt restrictions, or violated the wireless communication device restriction as proposed in the bill (current law does not have such provisions). ¢ Driving curfew. For the first six months, the restricted licensee could operate the vehicle or motorcycle from 5 a.m. to 9 p.m. (current law does not specify hours); while going to or from or in connection with any job (same as current law); when the licensee is accompanied by an adult who is at least 21 years of age, who holds a valid driver's license, who has at least one year of driving experience and who is in a seat beside the driver. In the case of a motorcycle, the licensee must be accompanied by an adult who is as least 21, holds a motorcycle license, has at least a year of driving experience and is driving a motorcycle nearby.¢ Passenger limit. When driving without a supervising driver, those with restricted licenses can have no more than one passenger under age 21, unless they are family members (a new provision).
Copyright 2018 The Lawrence Journal-World. All rights reserved. This material may not be published, broadcast, rewritten or redistributed. We strive to uphold our values for every story published.