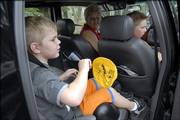 Kennedy School principal Felton Avery said he often sees children not wearing a seat belt when getting a ride home.
"I have seen - on a regular basis - kids not strapped in," he said at the school, 1605 Davis Road.
But as the school year gets under way, Lawrence Police said they would be doing extra traffic enforcement in school zones to watch for safety-belt and child-restraint violations as well as for speeders. Drivers can be stopped and cited if a child passenger under 14 is not wearing a seat belt, and a new state law, effective July 1, requires children up to age 7 to ride in a booster seat- something that's easier to forget or to brush off if the drive to school is a short one.
"People are usually traveling only a mile to get to school," said Jeff Halloran, project director of the Kansas Safety Belt Education Office and spokesman for a state traffic safety campaign. "They're only going to be in the car for 60 seconds or 2 minutes. They don't think anything is going to happen."
The issue of traffic safety around schools was in the spotlight earlier this year when a kindergartner at Prairie Park School, 2711 Kensington Road, was struck by a vehicle and died from the injuries.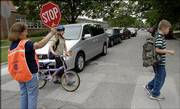 Lawrence Police Sgt. Randy Roberts, head of the department's seven-person traffic unit, said officers would be paying extra attention to school zones. He said the department enforces school zones across the city equally, unless there are concerns raised by residents in a given neighborhood.
In Lawrence, each school has its own set of traffic issues.
At Quail Run, 1130 Inverness Drive, staff members are assigned to help students cross the street at Oak Tree Drive - a crossing that's often used by students but doesn't yet qualify for a city crossing guard.
"I do worry about kids being in the neighborhood after they leave the school grounds. That's probably my biggest concern right now," principal Paulette Strong said.
When traffic gets backed up around West Junior High School, 2700 Harvard Road, where construction is under way, principal Myron Melton said he worried about children who were walking to school because they tend to run between the slowed cars.
"With all the construction, traffic hasn't been as much of as an issue as I had anticipated it being," he said. "So far, it's gone fairly well."
At Cordley School, 1837 Vt., the mantra is "Go south." Principal Kim Bodensteiner hands out bright orange fliers urging parents to drive south on Vermont Street when they're dropping off children so that they don't have to walk across a lane of traffic.
Cordley parent Kristie Conway said one concern at the location is that KU students driving through the area might not be as alert as other drivers to the school zone signs.
"I don't believe it's as important, sometimes, to those kids as it is being a parent," she said.
Copyright 2018 The Lawrence Journal-World. All rights reserved. This material may not be published, broadcast, rewritten or redistributed. We strive to uphold our values for every story published.