Some parents say the Lawrence school district overreacted to a tragedy.
After a kindergartner was killed in January riding his scooter from home to class, school officials came up with a new rule: Students younger than third grade cannot ride bikes or scooters to school, no matter how short the distance from home and no matter which school they attend.
"We live right down the street. He can't ride his bike down the trail if he wants to," Dave Stevens said of his stepson who is in first grade at Prairie Park School.
Stevens said the new rule is an inconvenience for the boy and the family.
But other parents and school and safety officials said the new rules only make sense.
Debra Bost, who waited outside Prairie Park School for her granddaughter on Thursday, said district principals hit the right age at third grade.
The family had debated whether her granddaughter, a second-grader, was ready to ride to school.
"I'm really glad it came upon the system. I didn't have to worry about it," she said.
Elementary school principals agreed last spring to adopt a uniform policy on bicycle safety and other wheeled conveyances, said district spokeswoman Julie Boyle. Some schools, such as Schwegler, already had the rule in place, so the new uniform policy changed nothing there.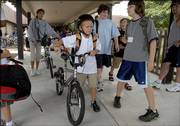 The standardization resulted from the Jan. 31 death of 6-year-old Bryce Olsen, who was struck by a minivan while riding his scooter to school. The motorist's vision was obscured by a shrub at the intersection, and police concluded he was not at fault in the accident.
Olsen's father, Bret, learned of the standardized policy Thursday and said his only comment was that he was glad someone was doing something about traffic safety.
The policy allows children past second grade to bicycle to class because, "by the third grade, most children have skills that are necessary to navigate traffic safely on a bicycle," said Julie Boyle, a district spokeswoman.
The new policy also prohibits students from riding scooters, in-line skates or skateboards to school. Each elementary school noted the changes in their school handbooks delivered to parents during the summer, Boyle said.
But some only noticed the new rules once school began this week.
School principals also included in the handbook the city ordinance that requires anyone 15 or younger to wear a helmet while biking or skating.
Instead of a fine or arrest for violators, police officers give away vouchers that allow children and teenagers to pick up a free helmet at any Lawrence-Douglas County Fire & Medical station.
Fire and Medical Division Chief Rob Kort leads the helmet operation and said the new district policy and handbook promote safety.
"I think it's a great step. My philosophy and opinion has always been that in order for kids to wear helmets, it has to be cool to do it," he said.
Boyle said she was aware of one parent who had called the district to complain about the new regulations.
Stevens said his stepson had been in Bryce Olsen's class last year and that he would have liked to see more crossing guards as a remedy to the safety concerns.
He said he also would like to see an exception to the regulations if students live near school and don't travel busy streets or intersections.
Copyright 2018 The Lawrence Journal-World. All rights reserved. This material may not be published, broadcast, rewritten or redistributed. We strive to uphold our values for every story published.