Douglas County ranks first in Kansas when it comes to properly buckling in its children.
About 75 percent of Douglas County children use an age- and size-appropriate child seat, according to the National Highway Traffic Safety Administration.
County officials are touting those numbers as the national highway administration kicks off its 20th annual Child Passenger Safety Week, which is today through Saturday.
"No child occupants died in any car accidents in 2006 in Douglas County, and that's our goal," Drees said.
To kick off the week, Lawrence Memorial Hospital had an automobile safety event Saturday in conjunction with Crown Chevrolet.
"This is the first time we've put it on. Basically it's an automotive safety event aimed at parents and 'tweens' (8- to 10-year-olds)," said John Drees, a registered nurse at LMH and coordinator of the event.
A handful of children and their parents learned how to get out of a locked trunk and the dangers blind spots can present when backing up.
"You shouldn't go behind a car," 8-year-old Trey Mullen said after the demonstration.
As part of Child Passenger Safety Week, state and Lawrence police officers will participate in a Special Traffic Enforcement Program. They will be on the lookout for unsafe passengers of all ages, said Kim Murphree, Lawrence police spokeswoman.
Last year, Kansas Highway Patrol troopers issued more than 900 citations for improper use of a child safety seat or improper use of a seat belt during the week.
Kansas officials are using the week to boost awareness about a law enacted in July that requires children ages 4 to 7, unless they're more than 80 pounds or 4-foot-9-inches tall, to be in a booster seat. Beginning in July, there is a fine of $60 plus court costs for anyone who violates the law, said Norraine Wingfield, a traffic specialist with the Kansas Safety Belt Office.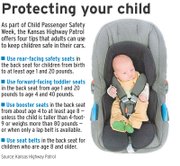 "They have to be elevated to the point where the shoulder strap doesn't hit them in their neck, or (drivers) get a ticket for it," said Marvin McWhorter III, who attended Saturday's safety event with his wife and their three children.
Adults who don't currently have a child safety seat may be able to get some help from the Kansas Highway Patrol. The patrol has 105 seats to give away at its seven regional troop headquarters. The closest offices to Lawrence are in Olathe and Topeka.
Also, a free child safety seat check will be held from 10 a.m. to 2 p.m. Saturday at Dale Willey Automotive, 2840 Iowa, where safety professionals will make sure booster seats are properly installed in cars.
Copyright 2018 The Lawrence Journal-World. All rights reserved. This material may not be published, broadcast, rewritten or redistributed. We strive to uphold our values for every story published.