Boulder, Colo. — Richard Roby sought the advice of a well-informed loved one last spring in trying to decide whether to leave the University of Colorado for the NBA after his sophomore season.
His counsel came from half-brother Kenyon Martin, a six-year NBA veteran - now with the Denver Nuggets via the New Jersey Nets - who played four years at the University of Cincinnati and never felt the urge to turn pro early.
"Kenyon said, 'Do what you feel. You are the only one who knows if you are ready,'" Roby reported.
Roby, a 6-foot-6, 205-pounder from San Bernardino, Calif., considered Martin's words of wisdom and consultation from Buffs' coach Ricardo Patton in deciding to pull his name out of the 2006 draft last spring.
Roby's eligibility at CU was never in question because he'd not signed with an agent.
"It was close. I said if it's up in the air I'd come back to school. It was, so I came back," said Roby, who takes a 17.0 scoring, 5.1 rebound average into tonight's 8 p.m. home battle against Kansas University.
"You can never go wrong in coming back," he added. "I felt it'd help my game out in all areas so I'll be more ready to play on that level some day."
Roby - he averaged 17.0 points and 5.5 rebounds as a sophomore in earning first-team all-Big 12 honors - admitted the key to his decision was, "I didn't want to fall into the second round. But I also felt it was the right thing to do. I felt I needed to come back."
Roby - he sure looked like an NBA player in scoring 30 points off 10-of-15 shooting (seven of 10 free throws) with seven rebounds in CU's 97-74 loss to KU on Jan. 27 in Allen Fieldhouse - stat-wise is having a similar season to his soph campaign, except in one area: shooting percentage.
He's made just 36.6 percent of his shots after hitting 42.2 percent a year ago. He's converted just 28 of 108 threes for 25.9 percent after making 63 of 177 (35.6 percent) last season.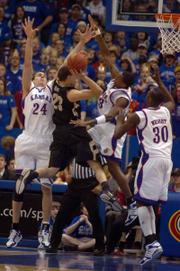 Of course, his supporting cast has changed. The Buffs, who have eight scholarship freshmen, enter tonight's game with a 6-14 record, 2-8 in the Big 12, compared to a 20-10 mark, 9-7 in the conference, last season.
"I'm not frustrated at all," Roby told the Rocky Mountain News in a recent interview. In fact, most believe he'll be back for his senior season to play for the yet-to-be named coach who will replace Ricardo Patton, who has announced his 11th season at CU is his last.
"I have to look at the positives now. If you think about the negatives, you stay in 'Negative Town', and it'll only get worse," Roby added. "These things will make me a better basketball player, even more hungry. I just need to continue to work, and good things will happen."
Roby has had some good games this season - he scored 30 points in losses to KU and Texas and 32 in a loss to Pepperdine - and some bad games, most notably Saturday's five-point outing off 1-of-9 shooting in a 78-59 loss at Kansas State.
The low moment may have come when he and freshman guard Xavier Silas (CU's second-leader scorer at 11.9 ppg) were involved in a shoving match in the team huddle during a 97-83 loss to Baylor on Jan. 30 in Waco, Texas.
"We're not like Shaq (O'Neal) and Kobe (Bryant) or anything like that," Roby said of the former feuding Lakers' teammates. "We've just got to realize it's not about me and him. It's about winning. I'm a junior. He's a freshman. He has to realize he's a freshman sometimes, and we've got to listen to each other."
The rift seemed to help in CU's next game. The duo teamed for 29 points and 13 rebounds in a shocking 89-77 home victory over Oklahoma State on Feb. 3.
"We were just trying to get each other pumped up," Silas said. "It wasn't a big deal at all, just a spur-of-the-moment thing. Afterwards we shook hands, and it was over with. It lasted about two seconds."
The two may be the squad's top two scorers again next season.
"I think we can complement each other really well," Roby said of he and Silas, a 6-5 freshman from Austin, Texas. "We both can take pressure off each other, because I know I get a lot of attention out there, and I know that helps him out a lot. We just have to realize we can help each other out on the court, and we don't have to be fighting for shots or whatever."
CU coach Patton actually thought the blowup helped his team, at least for a spell.
"It showed some spark, some fire in our group," Patton said. "On all good teams, players hold each other accountable. That's something we need to see."
KU coach Bill Self realizes Roby is capable of putting up big numbers again today. He had 20 points in the upset win against OSU.
"Roby has been a thorn in our side every time we play. He is a guy who is a natural scorer," Self said. "He has some freedom offensively. He is capable of making about any shot he can put up.
"I think he's one of the best offensive players I've played against," KU junior Russell Robinson said. "He finds a way to score and get to the line no matter what. He can take over a game."
"I really like playing against him," noted Brandon Rush. "I like playing against guys who can get 30, 35 a night."
Against KU, when hounded by Rush, Roby did commit eight of his team's unsightly 30 turnovers.
"We were trying not to let him get easy shots and tried to contest everything," Rush said. "We tried to play to his weaknesses and still he managed to get 30. He got the best of my defense."
Rush responded with 21 points of his own as KU beat CU for the 35th time in 36 tries.
"We definitely go at it," CU's Roby said of KU-CU matchups. "We are very competitive. It's always a big game for whoever is playing Kansas. It's huge for us."
Copyright 2018 The Lawrence Journal-World. All rights reserved. This material may not be published, broadcast, rewritten or redistributed. We strive to uphold our values for every story published.