The murder and arson trial for Jason Rose ended abruptly Monday.
District Court Judge Jack Murphy declared a mistrial after prosecutors attempted to introduce a new, previously undisclosed witness more than four days into testimony.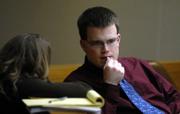 "The state had a witness come forward late Friday after court had convened," Assistant District Attorney Amy McGowan told Murphy on Monday. "We spent the weekend looking into it."
Rose has been charged with three counts of murder, one count of aggravated arson and seven counts of aggravated battery in connection to the Oct. 7, 2005, Boardwalk Apartments fire. The fire killed Kansas University student Nicole Bingham, electrician Jose Gonzalez and social worker Yolanda Riddle, and it severely injured seven others.
New witness
McGowan and Assistant District Attorney David Melton had nearly completed presenting state's evidence in the trial when they learned of the new witness. Many of the fire's survivors had already testified, and jurors were nearing the end of Rose's videotaped police interview, showing Rose confessing to starting a fire at the apartment complex the night it burned.
The defense had not yet presented any witnesses.
Murphy ruled that the evidence prosecutors said the witness would present appeared to be admissible, but declared a mistrial after Rose's attorney, Ron Evans, complained because the request was so late.
Although prosecutors won't disclose who the new witness is, someone posting on the Journal-World's Web site on Friday afternoon wrote that Rose had plans to set an apartment fire.
The comment, posted by a user under the name "truth_society," stated that Rose told the poster and several others during his stay in a group home "that as soon as he moved out into his own apartment space, he was going to set it on fire."
Several people posting comments urged "truth_society" to call police with the information.
Lawrence police Detective Greg Pruett called the Journal-World on Friday afternoon attempting to identify the poster who left the comment.
Late Friday, the Journal-World received a subpoena from the Office of the Kansas State Fire Marshal requesting records and Internet protocol addresses for the poster. The records were to be directed to police Detective David Axman or Wally Roberts, an investigator with the Fire Marshal's office.
The newspaper complied with the subpoena Friday night. Under the LJWorld.com user agreement, the organization reserves the right to disclose identifying information of those posting comments in the event of legal action.
District Attorney Charles Branson would not comment Monday about the identity of the witness. Defense attorney Ron Evans did not return a call seeking comment.
The case has been under a gag order since November 2005, barring all attorneys, officers and others with knowledge of the proceedings from commenting publicly outside of court.
It appears that much of the decision to declare a mistrial was made in Murphy's chambers Monday afternoon.
'Unfair to the defense'
Branson did say Monday that the information gathered during the weekend checked out, and that both prosecutors and Murphy thought it was important for jurors to hear that witness's testimony.
"We can't control when a witness appears," Branson said. "It's unfair to the defense. Obviously, the defense has to be prepared for this information."
Monday's mistrial came less than a year after a mistrial was declared in the murder trial of Jay Decker. Decker's first trial ended when prosecutors announced "newly discovered evidence" - a police interview that had not been delivered to attorneys - that they said would affect the outcome of the case. Decker was convicted at a second trial of murdering his infant daughter.
Mistrials in cases where a new witness surfaces late in the trial process are not unusual, District Judge Robert Fairchild said, especially when the testimony presented would affect the case considerably.
"Its not unusual to have a witness discovered at a late date," said Fairchild, who is administrative judge for Douglas County. "Anything can happen."
Having a story in the news often can cause new witnesses to surface after a trial has started, Fairchild said. The new evidence, if important enough, can hamper one side of a case or another.
"Generally, we do grant mistrials when evidence comes in late in the game," Fairchild said.
Murphy indicated in court that the evidence was important enough to be let into court even after the trial had begun.
"The court has reviewed the evidence," Murphy said. "And it does appear to be admissible."
To declare a mistrial, the judge has to believe in the validity of the evidence as well, forcing the court's hand to start the proceedings over, said David Gottlieb, Kansas University law professor.
"It's something courts only do because they have to do it," Gottlieb said. "It means they have to start all over."
Disappointed
Many of those involved with the trial left the courthouse Monday frustrated by the mistrial decision.
"Somebody mentioned getting left at the altar," juror Brad Wertz said of conversations with other jurors. "It's sort of a disappointment having sat through so much of it."
When trial left off Monday, the prosecution was getting close to wrapping up its case. Many expected a verdict by Friday, as the courtroom was reserved for only two weeks.
"I had lots of thoughts both ways, and it's disappointing to not be able to follow through on it," Wertz said. "I was looking forward to more information."
A new jury will have to be chosen before the April 30 trial date - a two-month delay that shocked some who were following the trial closely.
"It's a good thing I was sitting down," said Lindsey Gold, a friend of fire victim Nicole Bingham who had been following the trial online from Kansas City.
But Bingham's mother, Nancy, said that she'd rather see all of the evidence come to light than to have the trial over quickly.
"I'm OK with that," Nancy Bingham said. "Another month or two is not going to make a big difference. I'll be back."
Rose remains in Douglas County Jail on $500,000 bond.
Copyright 2018 The Lawrence Journal-World. All rights reserved. This material may not be published, broadcast, rewritten or redistributed. We strive to uphold our values for every story published.