A former foster child charged with setting a deadly apartment fire told police that on the night of the fire he was angry about receiving a box full of birthday cards and photographs from his parents.
So, Jason A. Rose told police, he set the box on fire on an outdoor balcony area of his Boardwalk Apartments building in the 500 block of Fireside Drive.
That's according to police testimony Wednesday at Rose's preliminary hearing in Douglas County District Court. Prosecutors allege the result was a terrifying fire that burned a blocklong building, killed three people and injured many more who were burned or hurt jumping to safety.
Evidence presented Wednesday included a recording of 911 calls in which trapped residents could be heard screaming for help.
"It looked like an inferno. It looked like hell on earth," said Dawn Davis, one of five injured survivors who testified Wednesday.
The fire - which killed Kansas University student Nicole Bingham, electrician Jose Gonzalez and social worker Yolanda Riddle - was first reported around 1:15 a.m. Friday, Oct. 7.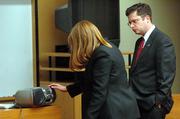 Wednesday was the first day evidence from the case had been made public, as prosecutors try to prove there's enough evidence to try the 20-year-old Rose for charges including first-degree murder.
Lawrence Police Detective Troy Squire testified that after the fire, investigators began interviewing eyewitnesses - asking them what direction the fire moved, what floor it was on first, whether they smelled anything. Squire said he went to meet Rose at work at a fast-food restaurant two days after the fire, once police learned Rose was one of the first people who had called 911.
In that interview, Rose said he'd been in his ground-floor apartment on the north end of the building about 1 a.m. when he heard a commotion and went outside, Squire testified. Rose said he looked down to the far south end of the building, saw the fire on the uppermost floor and noticed it spreading toward his end of the building.
Boardwalk Apartments Fire
More on the Boardwalk Apartments Fire
Squire said it seemed unlikely to him that Rose would have been able to see that from the opposite corner of the building. Also, it didn't fit with the picture emerging from crime-scene evidence that the fire appeared to have started in the middle of the building and spread outward, he said.
Squire said he later looked into Rose's background and found he'd been arrested in 2003 for stealing lighters from a local hardware store. Squire and an agent with the federal Bureau of Alcohol, Tobacco, Firearms and Explosives arranged to have a follow-up interview with Rose the next day.
Story changes
On that day, Squire said, he received information from the state's Department of Social and Rehabilitation Services that Rose had once been in trouble for setting a wastebasket on fire while in foster care.
In an interview Monday, Oct. 10, at the police department's west-side station, Squire confronted Rose about his record. Squire said Rose initially denied ever having set fires or having been in trouble for stealing lighters, then eventually admitted setting about 20 fires.
Squire said he told Rose it didn't look good that he had lied about his past. Shortly after that, Squire said, Rose began making confessions.
"Jason ends up telling us that he started a fire on a balcony near a railing with a piece of paper at Boardwalk Apartments the night of the fire," Squire said.
First, Rose said he was angry because a man named "Stan" had wanted him to buy marijuana and that he'd burned a piece of paper with the man's phone number on it, Squire testified. Rose said the paper caught a wooden railing on fire, and that he tried to put it out with a rug but that the rug caught fire.
Rose said he then went back to his apartment to watch TV. When Squire told him that didn't make sense, Rose ended the interview about 10:15 p.m.
Later that night, he was arrested and booked into the Douglas County Jail.
Angry at family
The next morning, Squire testified, he went to the jail to interview Rose, who again denied starting the Boardwalk fire.
Squire said he told Rose a lie: That a scientific test had shown a little piece of paper didn't start the fire. Eventually, Squire said, Rose said he'd been angry that night about receiving a box that contained birthday cards and photographs from his mother and father. Squire said Rose had been abused physically and sexually as a child, and that he didn't want to see his father again.
Rose told police he'd set the box on fire outside a second-floor apartment near the center of the building, but it wasn't explained why he would have gone there to light the box on fire.
Injured testify
Other witnesses Wednesday included Lawrence Police Officer David Ernst, the first officer who arrived at the scene. He testified he'd been in the complex about 1:15 a.m. on an unrelated call but hadn't seen a fire, but that he returned minutes later and saw the building blazing.
Coroner Erik Mitchell testified about identifying the bodies of Riddle, Bingham and Gonzalez.
In addition to murder, Rose is charged with eight counts of aggravated battery. Some of the victims who survived the fire testified about running through fire or jumping out of their windows to escape.
"I was suffocating pretty bad. I thought I was going to die," said Raju Ahmed, who broke his leg after jumping out his back window.
At least four people attended the hearing to support Rose, including Russ Beeson, who knows Rose from attending Victory Bible Church. Beeson said he thought Rose had been "railroaded" and that he didn't think Rose set the fire.
"It's just not in his character," Beeson said.
Rose supporters were not among those who testified Wednesday.
Testimony is expected to resume this morning.
Copyright 2018 The Lawrence Journal-World. All rights reserved. This material may not be published, broadcast, rewritten or redistributed. We strive to uphold our values for every story published.