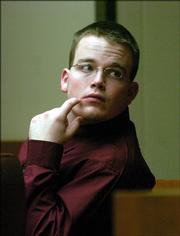 The design of the Boardwalk Apartments contributed to the rapid spread of the deadly fire that destroyed a building at the complex last fall, an investigator said Thursday.
The walkway outside the building had ceilings made of quarter-inch-plywood that burned easily. Vertical wooden slats and supports on the building helped the fire spread upward. And the stairwells along the front of the building acted "like a chimney" that allowed the fire to spread quickly from its second-floor origin up to the third floor and the roof.
All those aspects of the fire were described Thursday in court by Douglas Monty, a special agent with the Bureau of Alcohol, Tobacco, Firearms and Explosives. The remarks came on the second and final day of a preliminary hearing for suspect Jason A. Rose, who is charged with setting the Oct. 7 fire.
Monty testified that he didn't know of any accelerants, such as lighter fluid or gasoline, found at the scene.
Boardwalk Apartments Fire
More on the Boardwalk Apartments Fire
Rather, he said it was possible that the fire that destroyed the 76-unit building could have started with nothing more than a burning box of paperwork. That's what police say Rose admitted setting on fire that night on a walkway outside the building.
At midafternoon Thursday, Douglas County District Court Judge Jack Murphy found there was enough evidence to try Rose on three counts of first-degree murder, one count of aggravated arson and eight counts of aggravated battery.
Rose's next court date will be March 21.
Murphy made his finding despite an argument by defense attorney Ron Evans that Rose never intended to set the building on fire - something he said Rose emphatically told police.
"He liked living there," Evans said. "He had no reason : to burn the apartment building down."
Even if it's true that Rose set the box on fire outside the building, Evans said, he didn't mean for it to spread. That may be reckless, Evans said, but it's not aggravated arson - and without aggravated arson, there's no murder.
Also, Evans said that police questioned Rose for "hours and hours, days and days" despite his mental disabilities. Rose's conditions include attention deficit disorder, a learning disability and post-traumatic stress disorder.
"He's 20 years old, but not mentally," one of Rose's friends, Russ Beeson, said in an interview outside the courtroom earlier this week.
Judge Murphy said he agreed there were questions regarding the role that Rose's mental disabilities played in his questioning. But at preliminary hearing, judges are required to look at evidence "in the light most favorable" to prosecutors, and he found there was enough evidence for Rose to stand trial on all the charges.
Rose, a former foster child, had moved out on his own just weeks before the fire began. A Lawrence Police detective testified Wednesday that Rose first denied starting a fire, then admitted setting fire to a small piece of paper. Later, Rose told police he was angry about getting a box of cards and photographs from his parents and had set the box on fire outside the apartments, police testified.
This week's hearing didn't make clear whether investigators ever came up with evidence corroborating Rose's story about the box.
Copyright 2018 The Lawrence Journal-World. All rights reserved. This material may not be published, broadcast, rewritten or redistributed. We strive to uphold our values for every story published.