The search for bodies is over, with grim results.
Now the investigation into the cause of Friday's deadly apartment fire in west Lawrence begins in earnest.
"The three occupants that we were looking for we believe we have, in fact, found," Mark Bradford, interim chief of Lawrence-Douglas County Fire & Medical said Monday afternoon.
Bradford - as he has since the fire broke out early Friday morning in the 500 block of Fireside Drive - refused to identify those missing occupants until their identities are confirmed and families notified.
But friends, relatives and acquaintances of three people missing after the fire are resigning themselves to bad news they may have suspected all along.
The missing, according to those friends and relatives: Nicole Bingham, a Kansas University student; Jose Gonzalez, an electrician; and Yolanda Riddle, a social worker.
Victims remembered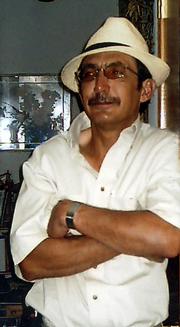 Lawrence resident Maria Gonzalez believes one of the bodies is that of her 50-year-old brother, Jose Gonzalez. She said she was glad the three bodies were found, but added she dreaded the wait for a positive identification.
"Yes, it is going to be difficult," she said. "I haven't heard from them (fire investigators), but they said they would get back to us as soon as they knew."
Maria Gonzalez said her brother had not been heard from since before the fire.
Jose Gonzalez worked at Quality Electric Inc., 1011 E. 31st St. On Saturday, two of his co-workers, Jerome Walters and Bruce Findley, were at the home of Maria Gonzalez offering support to her and other relatives.
"He's always a very cheerful person; a good gentleman and great to work with," said Findley.
"He's a quality guy," Walters said.
Another of the missing occupants was a Kansas University student; in Wichita word spread that the student was Nicole Bingham, who made a name for herself on the debate team at Wichita North High School.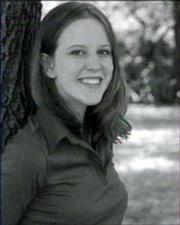 "I got a call from a teacher about 10 p.m. (Sunday) night who knew that Nicole and I were very close," said Sandi Johnson, who was Bingham's debate coach. "She was really a joy to have in class."
Bingham was a member of the Alpha Delta Pi sorority at KU, but residents and officials with the sorority and university have said they cannot comment.
The third missing fire victim is Yolanda Riddle, a social worker in the Kansas Social and Rehabilitation Services office in Ottawa, state SRS officials said Monday. She had worked there since Aug. 28.
"In her short time with us, she has proven to be a strong advocate for children and families and a reliable and conscientious worker," said SRS spokesman Mike Deines. "She had been doing a really strong job for us."
Employees in the Ottawa SRS office declined to comment.
Riddle previously worked almost five years at The Farm as a foster care worker, said Bobbi Mlynar, public affairs officer for the organization, which handles contracts with SRS in providing foster care services.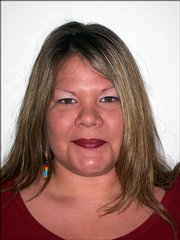 "We didn't have her at The Farm anymore, but it's a huge loss to society if she is not here because she was a good part of it," Mlynar said. "She was kind and loving."
While with The Farm, Riddle had helped organize a motorcycle toy run to get toys for foster children, Mlynar said.
Long wait
It will take time to positively identify the bodies and conduct autopsies, Bradford said.
"Autopsies will take several days, and if DNA is required, it will even take longer than that," Bradford said.
Bradford declined to say specifically where the bodies were found.
"They were in various parts of the building on various levels," he said.
It hasn't yet been determined where the fire started, he said, but typically the most devastation would be found around the origination point.
Photo Gallery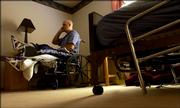 After the fire at Boardwalk Apartments
In the case of the Boardwalk building, most of the damage was at the center of the block-long, 76-unit building. It was also where investigators appeared to focus their attention Monday afternoon.
"It will be a methodical search of the fire building and it may take upward of several days to complete," Bradford said.
The Boardwalk apartment buildings met the city's fire codes when they were built, Bradford said. They were not required to have sprinkler systems or many of the other safety measures that exist in more modern apartment buildings, he said.
Fire was rapid
Lawrence city officials said the Boardwalk building was constructed in 1965. If it had modern safety features, Bradford said, that would have made it easier for residents in the apartment building to escape the fire - including sprinklers and hard-wired smoke alarms that are connected.
"There are a variety of things that would have made a difference," he said. "We believe that the fire spread laterally across the front of the building."
Photo Gallery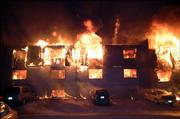 Fire at Boardwalk Apartments
Bradford said investigators have no indication that the fire originated with an explosion, but he said no possible cause has been ruled out.
He also said that while no more bodies are expected, the possibility exists that investigators could come across someone who was visiting the building the night of the fire.
Assisting in the investigation are dozens of investigators from several law enforcement agencies, including the Kansas Fire Marshal's Office and the Federal Bureau of Alcohol, Tobacco, Firearms and Explosives.
Occupants of the burned building are still asked to call fire investigators at 832-7600. Investigators also are asking people who took photos or videotape of the fire to call.
- Journal-World reporter Alicia Henrikson and 6News reporter Brooke Wehner contributed to this story.
500 block of Fireside Drive
Boardwalk Apartments Fire
More on the Boardwalk Apartments Fire
Copyright 2018 The Lawrence Journal-World. All rights reserved. This material may not be published, broadcast, rewritten or redistributed. We strive to uphold our values for every story published.