Photo Gallery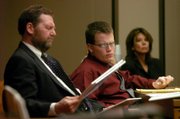 Boardwalk Fire Trial Day 2
Audio Clips
Boardwalk Fire trial witness testimony
Maritza Lamberto testified Thursday that she watched Jason Rose as he stood on the second-story walkway at Boardwalk Apartments about an hour before a fire that killed three tenants.
She said he yelled an obscene two-word phrase twice - the only two words in English that she knew.
"As I went up(stairs), he continued to scream and yell," Lamberto said through an interpreter.
Lamberto's testimony capped the second day of evidence in Rose's murder trial. Rose has been charged with three counts of first-degree murder, one count of aggravated arson and seven counts of aggravated battery in connection with the Oct. 7, 2005, fire.
Lamberto said she saw Rose, clad in a white T-shirt and pajama pants, yelling from the second-floor balcony when she arrived home from work.
She hadn't seen him before that night, but recognized him at the preliminary hearing last February. Until the preliminary hearing, she hadn't realized the same man she saw screaming on the balcony was the suspect in the fire.
After the preliminary hearing, police re-interviewed Lamberto, she said.
If true, Lamberto's story may bolster the prosecution's contention that Rose started a fire on the second-floor walkway the night the apartment building burned down - something Rose admitted to police during interrogation days after the fire.
Rather than cross-examining Lamberto on Thursday, Rose's attorney, Ron Evans, asked Judge Jack Murphy to recess court.
Other testimony on Thursday gave jurors further insight into the investigation.
Detective Jim Martin told the jury about two warranted searches of Rose's apartment, sport utility vehicle and the area around the burned building.
Inside Rose's water-logged apartment, Martin testified that he and agents from the Kansas State Fire Marshal's office and the federal Bureau of Alcohol, Tobacco, Firearms and Explosives found two lighters and a can of lighter fluid along with photographs in a cardboard box in the middle of Rose's living room floor.
"Photographs of him, basically, through his life," Martin explained to Assistant District Attorney Amy McGowan during questioning.
Those items were found during a second search of Rose's apartment on Oct. 13, 2005, after interviews with Rose pointed police toward what to search for, Martin said. He said interviews revealed that days before the fire, Rose had been shipped a box containing some old photos and other remnants of the then 20-year-old's past.
Martin said investigators also found a second can of lighter fluid on a railing one door down from where he lived.
But Martin admitted under questioning from Evans that he couldn't tell if any of the photographs found in Rose's apartment had been burned, or if the cardboard box the photos were in had a shipping label on them. As with most everything else in the apartment, Martin said the cardboard box was so damaged by water that it fell apart when touched.
Martin also admitted he didn't know how much liquid was in the metal lighter fluid containers when police served the search warrant. The investigators kept only a sample of each liquid then dumped out the rest, Martin testified.
Also, Martin said dogs from the Fire Marshal's office found no sign of accelerants in Rose's apartment or vehicle.
Several fire victims, including former Kansas University student Eli Greenbaum, his girlfriend, Dawn Davis, and former resident Demarquis Maybell talked about their experiences of jumping from third-story windows to avoid the fire.
Douglas County Coroner Erik Mitchell testified that all three of the fire's fatality victims - KU student Nicole Bingham, social worker Yolanda Riddle and electrician Jose Gonzalez - died from fire-related injuries.
Jurors sat in silence while Mitchell showed graphic photos of all three victims during autopsies, explaining that carbon monoxide poisoning likely contributed to their deaths.
Testimony is scheduled to continue today.
Copyright 2018 The Lawrence Journal-World. All rights reserved. This material may not be published, broadcast, rewritten or redistributed. We strive to uphold our values for every story published.