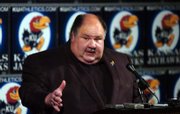 If Kansas University's football coaches were looking for balance in this year's recruiting class, they nailed it - a perfect 10, if you will.
A total of 18 scholarships officially were passed out Wednesday, the first day high-school seniors could sign letters of intent. Three more junior-college transfers signed in December, and the final breakdown is staggering.
Ten offensive players. Ten defensive players. And a kicker thrown in.
Is that a coincidence, or part of a quest for perfect equality?
"We set our needs on a board very early," KU coach Mark Mangino said. "But our philosophy here is that we are going to take the best available football players. It just happened to be that it was almost completely balanced."
And, of course, even Mangino took a jab at himself Wednesday, admitting that hardly anyone is locked in to one position at KU. Haven High standout Isiah Barfield is listed as a defensive back but could play receiver. Free State High's Ryan Murphy is listed as a wide receiver but could play cornerback or free safety in the next five years.
Even quarterback A.J. Steward was a big-time defensive back at Riverview Gardens High in St. Louis, though Mangino quickly countered by confirming that, "We brought him here as a quarterback."
Regardless, there wasn't one position stocked to the brim in this year's class. It seemed almost every spot on the field benefited equally from the 21 signees. All 18 announced Wednesday were high school standouts.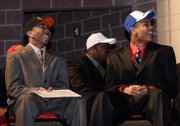 In all, three offensive linemen were inked. Three defensive linemen. Four wide receivers. Five defensive backs. Two running backs. Two linebackers. One quarterback.
Even a 6-foot-4, 210-pound kicker, Stephen Hoge, was given a scholarship. He could be in line to replace Scott Webb starting in 2008.
"It is the best group of athletes (KU has recruited) in terms of quality of the athleticism and the number of players," Mangino said. "We were not only able to get quality skill people with great athleticism, but our offensive and defensive linemen we recruited are very athletic, too. A number of them are basketball players and play multiple sports."
This was the first class under the cloud of NCAA sanctions. Under a self-imposed penalty stemming from 2003 violations, last year's class was restricted in junior-college signees, and that remained the case this year. But NCAA punishments passed out in October also restricted the number of total scholarships by three.
Because of that, only 21 were signed instead of the maximum 25. Conceivably, KU has a scholarship left over if its wants to grab someone late. But if balance were the key, it better be someone who can play both offense and defense.
Don't want to throw this lucky case of equality right out the window.
"You're maybe doubling up at a position that you're pretty well stocked, but you don't want to pass up a great player," Mangino said of KU's philosophy. "Even though we have needs, and we try to meet the most important needs, we take the best available kids."
Copyright 2018 The Lawrence Journal-World. All rights reserved. This material may not be published, broadcast, rewritten or redistributed. We strive to uphold our values for every story published.