Kansas State center Jason Bennett didn't score or grab a rebound, but had three blocks in 11 minutes. He also had five fouls and expressed his displeasure with the refs as he exited after fouling out.
Later, he punched his seat on the bench as KU's student section in the south end zone taunted him.
"I think Bennett has an anger-management problem," KU's Brandon Rush cracked, adding, "He's a big body. He clogged the lane, had a couple of blocks the first half."
¢Huggins, fan interact: KSU coach Bob Huggins, who did not respond to the students' chants of "DUI, DUI" in the second half, did get into a shouting match with a KU fan as the Wildcats headed to their locker room. A security guard said the KU fan shouted insults at Huggins, instigating an oral exchange between the two.
KSU officials were upset at an illustration in the KU student paper Wednesday depicting Huggins in jail with the words, "Hugs and Thugs" included in the drawing.
¢Maybank excels: Senior Jermaine Maybank, who had a previous career high of nine points against North Dakota State, burned KU for 26 points off 7-of-10 shooting. He also made 12 of 15 free throws.
"We didn't do a good job on him," KU coach Bill Self said. "Had we played five more minutes, he probably would have shot 25 free throws. He did a great job driving the ball."
Of Maybank, Rush said: "He did everything. We knew he was a driver. We didn't know he was capable of getting 26."
¢Stewart headed to funeral: KU junior Rodrick Stewart, who played six minutes, will not be traveling to Columbia, Mo., for Saturday's KU-MU game.
Stewart plans to head to Aberdeen, Miss., for the funeral of his great-grandfather Pompie Randle, who died earlier this week at the age of 98.
Photo Gallery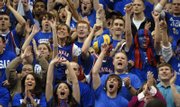 KU vs K-State
"I fully support him," Self said of Stewart, who also will visit his mother, Lisa, who has been hospitalized in the Mississippi town.
Rodrick's twin brother, Lodrick, a senior at Southern Cal, also will leave his team to attend the funeral and visit their mother.
¢The key to victory: "We played that game 40 minutes," Rush said. "It's one of the first times we played 40 minutes against a tough team like K-State."
¢Just one game vs. South: KU officials said there is no truth to the rumor the Jayhawks will play a team from the South Division more than once a season in upcoming basketball campaigns.
It had been rumored on the Internet that KU would play Texas or Texas A&M; one year at Sprint Center in Kansas City and the next in Dallas to go with the team's regularly scheduled game in Big 12 play.
¢Numbers: Self's Jayhawks won their 20th game. He has led teams to 20 victories in nine straight seasons. KU has won 20 games for 18 straight seasons. : Self now has 299 career victories. : The 27-point victory was KU's largest margin in the series since a 35-win in 2002 in Lawrence. : Self is 8-1 versus Kansas State. KU has won 33 of 34 versus KSU. : KU attempted a season-high 68 field goals, making 33 two-pointers, a season high. KU hit five of 13 threes. : KU's 29 fouls were most by a Jayhawk team since 30 in 2000 versus Ohio State. It's the most in a league game since 30 fouls against Oklahoma State in 1992. : Sherron Collins tied a season high with seven assists. : KSU's 41 free-throw attempts were most by a KU foe since Ohio State attempted 42 in 2000. KSU's 30 makes were most by a foe since Texas Tech made 30 in 1999.
¢Debuts: KSU coach Huggins on Wednesday tried to become the first Wildcat coach since Cotton Fitzsimmons to win his first game against KU at Allen Fieldhouse.
Fitzsimmon's Wildcats won on March 8, 1969, in Lawrence. Coaches who dropped their openers since the late Fitzsimmons: Jack Hartman, Lon Kruger, Dana Altman, Tom Asbury and Jim Wooldridge.
Copyright 2018 The Lawrence Journal-World. All rights reserved. This material may not be published, broadcast, rewritten or redistributed. We strive to uphold our values for every story published.