After a road meet Monday, the Lawrence High bowling teams returned to the friendly confines of Royal Crest Lanes and rebounded from the day before.
"It was really nice to be home again," LHS coach Greg Farley said. "Even though Royal Crest has gone through some changes in converting to the synthetic lanes, we're really comfortable on them. And the kids just bowled with a lot more confidence tonight, which led to significantly higher scores."
Both the boys and girls squads took second in the three-team meet - after finishing third on Monday - with the boys' 2,336 cumulative score coming just 33 points short of Olathe Northwest.
"The team did really well - we really improved," LHS bowler Ryan Miller said.
Miller's 643 series (187-267-189) - good enough for a first-place tie - was so impressive his coach was all smiles when talking about the freshman.
"That middle game, where he put those strikes together, it was pretty fun to watch, a lot of people were excited about that," Farley said. "At this point in time, he's in a groove and he's hitting the pocket real well and we'll just hope it continues."
Tanner Kilmer, Tyler Bailey and Olson Kilmer's scores added to the second-place finish. Tanner Kilmer had a 615 series, with Bailey (554) and Olson Kilmer (524) shooting sub-600.
LHS junior Tiffany Demaline finished a sweep of the individual top bowlers with a 619 series, including games of 203, 224 and 192.
"We keep trying to find the right combination of five girls that can help the team score, but she is that one person you can count on, night-in and night-out, to post basically (600) or better," Farley said. "She's just really consistent. She doesn't let outside factors influence her game."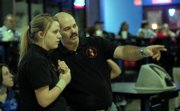 Jessica Wyatt was the only other female LHS bowler to break 500 with her 506 series. Sam Hays bowled a 472, with Alexah Gudenkauf finishing with a 460.
Demaline said the home atmosphere - which included support from the Free State High bowlers who were practicing at the facility - brought forth a stronger level of intensity from the girls squad.
"Our girls maybe concentrated a little bit better, but we've just got to get stronger; a couple of us are hurting," Demaline said.
The home lanes at Royal Crest will become even more familiar to the Lions as they'll face cross-town rival Free State on Feb. 15. The bowling alley will also be the host location for the Sunflower League tournament - for the first time ever - and the Kansas Class 6A state championships.
Copyright 2018 The Lawrence Journal-World. All rights reserved. This material may not be published, broadcast, rewritten or redistributed. We strive to uphold our values for every story published.