Topeka — A proposed two-year ban on construction of coal-burning power plants appears dead.
The House Energy and Utilities Committee on Friday tabled the measure on a voice vote.
The only lawmaker who could be heard opposing the motion to derail the bill was state Rep. Vaughn Flora, D-Topeka, who drafted the proposed moratorium.
The bill was filed as state officials consider a $5 billion project by Sunflower Electric Power Corp. to build three 700-megawatt coal-fired plants in western Kansas.
Flora's legislation would have imposed a two-year moratorium on coal-burning plants. During that time, the state would have conducted a study on the health effects of emissions from coal-fired plants.
During a public hearing on the bill Monday, utility executives said the moratorium, if enacted, would kill the Sunflower project, and lead to rate increases by forcing power producers to seek more expensive forms of energy.
But environmentalists said the moratorium would protect Kansans' health by reducing climate-changing coal-fired emissions and help the economy by increasing development of renewable energy, such as wind.
Ray Dean, professor emeritus at Kansas University, said he was disappointed that the moratorium failed, but that he and others would continue to publicize the effects of global climate change.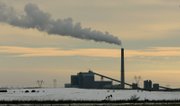 "We're trying to get the message out," Dean said.
Flora failed to get an up or down vote on his moratorium when Rep. Annie Kuether, D-Topeka, moved to table the bill.
Committee Chairman Carl Holmes, R-Liberal, said there could be no debate on a motion to table.
Later, Kuether said she made that motion to protect committee members, especially freshmen legislators, from having to vote on a bill without a lot of background knowledge about the issue.
"It wasn't going to come out favorably," she said of Flora's bill.
Copyright 2018 The Lawrence Journal-World. All rights reserved. This material may not be published, broadcast, rewritten or redistributed. We strive to uphold our values for every story published.