Photo Gallery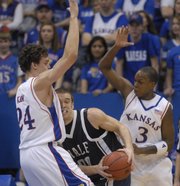 KU vs. Yale
Mario sets mark: Mario Chalmers, who scored 11 points, hit a three-pointer at the 8:32 mark of the first half to reach the 1,000-point mark for his career.
He became KU's 50th 1,000-point scorer and joined Brandon Rush as active Jayhawks in the 1,000-point club.
"It's a good thing for me. I'm happy for myself. My teammates are happy for me," Chalmers said. "I couldn't have done it if it was not for my teammates. I dedicate it all to them."
Chalmers and Rush are the first teammates to share the distinction since the 2005 squad had three players who reached the 1,000-point mark in Wayne Simien, Keith Langford and Aaron Miles.
¢ Tough night for twins: The Holmes twins, who starred at Olathe South High School, had rough nights. Nick Holmes scored three points off 1-of-4 shooting in 18 minutes. Caleb Holmes had two points off 1-of-6 shooting with four rebounds and six turnovers and three assists in 21 minutes.
"It felt good. At the same time I felt a little sorry for them," KU senior Russell Robinson said. "They had some air-balls. That's not a good feeling when you come back home. Being seniors, it's a tough way to come back home. They are good players. I am sure they'll bounce back," Robinson added of the duo who worked Bill Self's camp and played pick-up games with the Jayhawks last June.
¢ Recruiting: Zach McCabe, a 6-foot-5, 195-pound shooting guard from Bishop Heelan High in Sioux City, Iowa, attended on an unofficial recruiting visit.
¢ Jackson revisited: Fans and KU players alike marveled at Darnell Jackson's steal and acrobatic spin move that led to a basket and free throw in the second half.
"I was more impressed he made the free throw. Normally guys get happy and miss the free throw," Robinson said, adding, "that was probably the No. 1 move by KU this year."
¢ This, that: KU made just 12 of 25 free throws. "We've got to do better than that because we're better shooters than that," Self said. : Tyrel Reed exploded for eight points in 10 minutes. He hit all three of his shots, including two threes. : KU is 13-0 for the first time since the 2004-05 season, when the Jayhawks opened the year 14-0. KU is 13-0 for the eighth time in school history. : KU is 3-0 all-time against Yale and 13-0 versus the Ivy League : Robinson has 203 steals, placing him three shy of Kirk Hinrich for fifth all-time on the KU list. He has 401 assists, making him the 10th player in Jayhawk history to record over 400. Robinson is 24 assists shy of entering KU's career-top ten. : Yale scored 19 first-half points, marking the third time this season KU has held its opponent to under 20 first-half points. : Jackson scored a game-high 20 points, finishing one shy of his career high. It was his second-career game with 20 or more points. Jackson's nine field goals and 12 field-goal attempts were each career highs. His nine made shots tied Sherron Collins for the most by a KU player this season. Over his last six games, Jackson has shot 32-of-41 from the field (78 percent.)
Copyright 2018 The Lawrence Journal-World. All rights reserved. This material may not be published, broadcast, rewritten or redistributed. We strive to uphold our values for every story published.