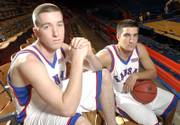 Ask Brady Morningstar about his biggest rival - besides Kansas State and Missouri - and he'll tell you all about Brennan Bechard.
"Oh, man, I go at him when he's guarding me," Morningstar, a Free State High graduate, said of Bechard, a Lawrence High alumnus. "He's a spot-up shooter, man, but if he catches the ball and I'm guarding him, he can't score."
Bechard, a junior on the Kansas University basketball team, begs to differ.
"You're not talking about me, are you?" he asks overhearing Morningstar's comments.
In his second season at KU after spending his freshman year at Barton County Community College, Bechard has developed a reputation in practice as a dead-on perimeter shooter.
The rivalry between the two Lawrence products can be fierce - "We go at it all the time," Bechard says - but when it comes to the Lions vs. the Firebirds, Bechard says there's no contest. At least not on the Allen Fieldhouse court.
"We definitely have an edge," Bechard said of the Lions. "We got coach Manning."
KU assistant coach Danny Manning attended Lawrence High before his All-American career with the Jayhawks.
Bechard wasn't yet 2 years old when Manning led Kansas to the 1988 NCAA title, but he's been a fan as long as he can remember. He attended KU basketball camps as early as the fifth grade and bragged to his grade-school friends about missing class to attend Big Eight tournaments in Kansas City, Mo.
"That was fun," Bechard said. "But being a part of it is definitely a lot more fun. I like this side of it a lot better."
His ties to KU go deeper than fandom. His father, Ray, recently completed his 10th season coaching the KU volleyball team. His sister, Ashley, played on that team from 2001 to 2005.
"This is the best of both worlds," Brennan Bechard said of being part of his childhood dream team as an invited walk-on. "As a fan, you sit back and take it all in. But it's fun to actually see the whole process and be a part of it."
Last season, Bechard played 26 minutes and took three shots, all three-pointers, making one.
So far this season, Bechard has appeared in seven of the Jayhawks' 12 games. He averages two minutes per contest and already has scored nine points on 3-of-6 shooting from the floor. That mark includes a 2-of-5 showing from three-point land.
Bechard's not sure whether he'll get a chance to contribute more from here on out, but he says the best way to get on the court is to give maximum effort in practice.
It helps, he said, that he's far less intimidated in this, his second season, with the Jayhawks.
"It's nice knowing what's going on this time around," he said. "I'm a little more comfortable, so it's a little better this time around."
Copyright 2017 The Lawrence Journal-World. All rights reserved. This material may not be published, broadcast, rewritten or redistributed. We strive to uphold our values for every story published.