Talib's laundry list of awards
¢ All-America First Team (AP)
¢ All-America First Team (Walter Camp)
¢ All-America First Team (FWAA)
¢ All-America First Team (AFCA)
¢ All-America First Team (The Sporting News)
¢ All-America First Team (SI.com)
¢ All-America First Team (CBSSportsline.com)
¢ All-America First Team (Phil Steele)
¢ All-America First Team (Rivals.com)
¢ Jack Tatum Award Winner (defensive back)
¢ Bronko Nagurski Award Finalist (defender)
¢ Jim Thorpe Award Semifinalist (defensive back)
¢ Walter Camp Player of the Year Watch List
¢ All-Big 12 First Team (Big 12 Coaches)
¢ All-Big 12 First Team (Associated Press)
¢ All-Big 12 First Team (Austin American Statesman)
¢ All-Big 12 First Team (Forth Worth Star)
¢ All-Big 12 First Team (Phil Steele)
¢ All-Big 12 First Team (Rivals.com)
¢ Big 12 Defensive Player of the Week vs. Oklahoma State (Nov. 12)
¢ Preseason All-Big 12
¢ Playboy Magazine Preseason All-America
¢ Preseason All-America by most publications.
¢ CBSSportsline halfway All-America (first team)
¢ SI.com mid-season All-America (first team)
¢ Phil Steele mid-season All-America (second team)
¢ Phil Steele mid-season All-Big 12 (first team)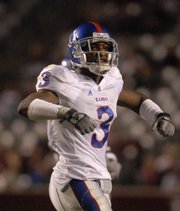 Cornerbacks can't be hard on themselves on the field. That's how the mind gets cluttered and the performance gets bland.
But in hindsight, KU standout Aqib Talib has been his own worst critic. Soon after getting named to every All-America team and being flown all over the place for awards banquets, Talib still is trying to see what the fuss is all about.
"I didn't think I had that good of a season," Talib said. "I thought it was decent, but I didn't think I deserved all of that. It was a surprise to me. I'm honored. If they want to give it to me, I'll take it."
Talib said his 2006 performance, individually, was better. While this season has been collectively tremendous for Kansas - now 11-1 and playing in the Orange Bowl on Jan. 3 - Talib has been a little disappointed with how he has produced compared to what he has surrendered.
"I think I gave up three touchdowns or four touchdowns this year," Talib said. "My sophomore year I think I gave up one. As far as me stopping them from scoring, it was a lot better my sophomore year."
No matter. Talib might still be one of the top four defensive backs in college football this season, even if it was the second-best season he has put together.
The junior had 61 tackles, four interceptions and 13 pass breakups this season for KU. His 17 passes defended is best in the Big 12 Conference, and he was the star of the year's most dazzling highlight when he returned an interception 100 yards for a touchdown against Florida International.
So humbling talk of merely a "decent" season is bound to raise some eyebrows - even from those close to him.
"In terms of the season?" safety Justin Thornton said. "I think he's had an All-America season both years."
Talib's bulging collection of trophies this year didn't even take into account the productivity he had as a part-time receiver, which included four touchdown receptions. It was more his defensive reputation, individual results - and his team's gaudy record.
"I just came to Kansas trying to play, trying to get on the field as early as possible," Talib said. "It's all surprising to me. It's a blessing, that's all."
Still, Talib feels he hasn't quite done enough this season, which isn't too surprising. After all, the great ones - which Talib strives to be - all have one thing in common. There is something burning inside which never allows them to be satisfied.
Even if everyone around them is plenty pleased.
"I think once people know you're a good player, they'll challenge you more so maybe than a person who has not garnered a lot of attention," Mangino said of Talib. "But I think he's done well."
¢
Sendoff slated: Fans wishing to send off the KU football team as it heads to the Orange Bowl in Miami may do so at 8:30 a.m. Thursday at the south end of Allen Fieldhouse.
There, the Jayhawks will board buses and head to the airport, where a charter flight will take them to Miami. Kansas will stay there until after the Orange Bowl on Jan. 3.
Commemorative Orange Bowl giveaways will be passed out to fans who attend the sendoff.
¢
Preview show: An Orange Bowl preview television show has been put together and will air throughout the week on various stations.
The show, featuring Mangino, will review the 2007 season and look ahead to Virginia Tech, KU's Orange Bowl opponent.
Among other stations, Sunflower Broadband channel 6 will air the show at 7 p.m. on Dec. 31.
Copyright 2018 The Lawrence Journal-World. All rights reserved. This material may not be published, broadcast, rewritten or redistributed. We strive to uphold our values for every story published.