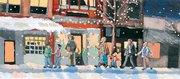 Holiday music events, gift ideas, activities for kids, food, decor & much more!
Ben Allen, 47, of Lawrence, used his musical talent Thursday to give back to people who helped him through a difficult time in his life.
Allen played the piano in the basement of First Christian Church, 1000 Ky., during the annual Christmas Party at Lawrence Interdenominational Nutrition Kitchen.
As Allen played, about 170 people waited to be served ham, sweet potatoes, green bean casserole, cookies and more by Plymouth Congregational Church volunteers.
About two-and-a-half years ago, just six months after he moved to Lawrence, Allen said he had "a difficult situation with the landlord" and was uncertain where he would live.
He said he was grateful to have places to stay, and he went to LINK for meals weekly, something he still does. LINK provides meals to those in need four days a week.
"I was able to get back on my feet, and I'm a homeowner now, but I try to remember what that felt like and try to get back to the people who helped me. And one of the ways I do that is to come and share my music with people," he said.
Plymouth Congregational Church is host to the annual meal. Church volunteers put out Christmas decorations, and all wore their own Santa hats.
Donna Schlaman, former LINK coordinator for Plymouth Congregational, helped with the preparations and kitchen operations. Schlaman said she insists on serving high-quality, fresh food to the guests.
"I think it means something for people," she said.
To spread a bit more holiday cheer, Cliff Wallace, 73, made an appearance as Santa Claus and passed out candy canes to everyone.
On Christmas Day, First United Methodist Church, 946 Vt., will be host to its annual free Community Holiday Dinner from 11 a.m. to 2 p.m. Tuesday in Brady Hall, which is in the church basement.
Copyright 2018 The Lawrence Journal-World. All rights reserved. This material may not be published, broadcast, rewritten or redistributed. We strive to uphold our values for every story published.