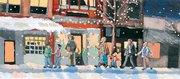 Holiday music events, gift ideas, activities for kids, food, decor & much more!
Christmas may not have come early this year, but it certainly did sneak up on a lot of shoppers.
Local retail stores and shoppers both say that heavy shopping didn't get started until this week. Some blame it on the weather, others blame it on a busy schedule, but not too many blame it on a bad economy.
"There's certainly a lot of jitters out there that the national media is putting out, but it hasn't been reflected in our customers' attitudes," said Dan Hughes, owner of Sunflower Outdoor & Bike Shop.
In fact, retail spending is expected to increase nationwide this year by 4 percent, according to a report released in October by the National Retail Federation.
Hughes said this year is on track to be even better than last year for his business.
"We're ahead of our goal for where we want to be for this year," Hughes said Thursday. "We're ahead of last December, and last December was a record for us."
But the National Retail Federation also reports that shoppers will probably be more restrained this year. Sorcha Sidener, of Lawrence, is one of those shoppers.
"It's not so much spending less as being more conservative," Sidener said Thursday while out shopping on Massachusetts Street.
Local retailers did notice a slow start to December when an ice storm and snow swept through the region and kept many people at home.
"That's normally the reaction when we do get some inclement weather," said Joe Flannery, president of Weaver's. "It stops people for a while, and that very well may be the reason for the slower-than-normal start this year."
But retailers have seen business pick up this week with the warmer weather and Christmas only a few days away.
"Our store has been absolutely full of life, full of customers," said Margaret Warner, owner of The Toy Store.
Some shoppers said they didn't start shopping until this week because they didn't have time.
"I work a lot, so I just had Tuesday and today to get out," shopper Debbie Pelzer said Thursday.
Kansas University senior Tyler Martin also got a late start this year. He had about 10 people to shop for and expected to be out gift-hunting for a few hours Thursday.
"I always get a slow start," Martin said. "Probably a couple more hours, and I'll be good."
As for what shoppers have been buying this year, the biggest change may be in children's gifts.
The Toy Store and Blue Dandelion have both noticed an increase in shoppers looking for toys that aren't made in China. There have been several recalls in recent months for lead-based paint in toys and other hazards.
"Everyone comes in to ask if we have toys that are not made in China," said Elizabeth Ross, executive assistant at Blue Dandelion. She said German-made toys have been popular.
With only four days left to shop until Christmas, retailers hope customers will make the most of what little time is left to buy gifts.
"These last few days are some of the biggest days of the season," Weaver's president Flannery said. "So we hope we are about where we were last year, but it's a little too early to tell."
Copyright 2018 The Lawrence Journal-World. All rights reserved. This material may not be published, broadcast, rewritten or redistributed. We strive to uphold our values for every story published.