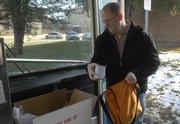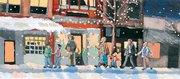 Holiday music events, gift ideas, activities for kids, food, decor & much more!
While on the T's Route 6 on Thursday, Lawrence bus driver Tony Duran hoped his passengers wouldn't pay their fare in change.
Instead, he was hoping for a can of food to contribute to a food drive he organized.
"It's a pretty good turnout," Duran said. "I was really surprised."
In place of the usual 75-cent fare, riders could bring a canned good or other nonperishable food item on board to donate to a local food bank.
Duran came up with the idea after having to use a local food pantry once himself. "We've had instances where I've been sick and couldn't work for a couple days, and we were short on our check," Duran said. "After seeing that and talking to some of my passengers, I realized there was a big demand in Lawrence around the holiday season."
That's an experience he shares with many of his riders. According to Lawrence Transit System Administrator Cliff Galante, a recent survey revealed 46 percent of T riders have annual household incomes below $15,000. Now back on their feet, several felt compelled to donate.
Some even spent more on donations than they would have on their fares.
"I've been homeless and I'm still on a fixed income, so I know the importance the pantries have to the people that need it, so I wanted to donate something," rider Jonathan Krasick said.
Said rider Sean Amon, "I've been in that same situation before, and I know what it's like. If I can give back to the community, then I know I've done something right."
When Duran presented the idea, officials from the city and MV transportation, which manages the buses and employs the drivers, got on board.
They now hope it can become an annual tradition.
"We knew the holidays were approaching, and we thought hey, what a great idea," Galante said. "The holidays are a time about giving, sharing and helping your community, and I think this is a great way to do it."
Duran said all of the food will go to Just Food, an organization that supplies local food pantries. All of the donations will go to Lawrence food banks.
Through the drive, they collected at least 200 canned goods. They'll know exactly how many donations they received today, but Duran said the amount doesn't matter.
"If we raise a hundred cans, that's still better than nothing at all," he said. "If I have one passenger donate another can, I'd be happy."
Copyright 2018 The Lawrence Journal-World. All rights reserved. This material may not be published, broadcast, rewritten or redistributed. We strive to uphold our values for every story published.