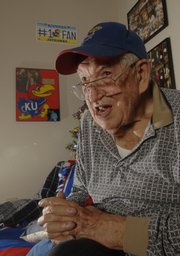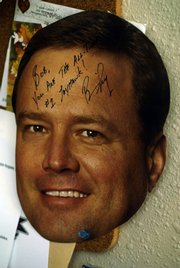 Bob Nelson's 85-year-old body may be slowing, but his handshake is as strong as a vise.
It is a grip that reveals the passion of a man widely considered to be one of the greatest sports fans in Kansas University history.
"Arguably, there's never been a better Jayhawk fan," men's basketball coach Bill Self said.
It's a little-known fact that the man simultaneously referred to as "Nelly," Kansas Superfan and The Old Jayhawk never received the diploma he worked toward in the 1940s. Tonight, Nelson will celebrate his receipt of a general studies diploma from the institution where he spent his life working and cheering.
Coaches, players and friends will gather for the party.
"This is the thing that he would cherish more than anything else - to have a degree from the University of Kansas," said Don Fambrough, a former KU football coach who plans on attending the festivities.
Oil gauger's son
Nelson lives in an assisted-living facility in a room filled with photographs of memorable KU sports moments. Several KU caps hang from a hook. One sits on his head. The television is perpetually tuned to ESPN.
A stroke in 1998 affected Nelson's speech. He is unable to vocalize all he feels about receiving the diploma. Instead, his eyes well with tears.
"It's going to be pretty special for him," his wife, Eleanor, said.
Nelson was raised in the Coffeyville area. The eldest son of an oil gauger, he grew up in a strict household where dancing and other pleasures were restricted, Eleanor said. But the young Nelson found he could sneak off to watch a baseball game and come back clean, and his parents wouldn't notice.
"It was kind of forbidden fruit when he was younger," Eleanor said.
In adulthood, Nelson followed his passion in the open. He studied journalism at KU. At 5-foot-8, he wasn't collegiate-athlete material. He became a big fan instead.
He spent more than 30 years working at KU as a program coordinator in continuing education. A bachelor until he married Eleanor in 1991, Nelson devoted his time to sports and KU.
Over those years, he cemented himself in the KU community, his fun-loving spirit and zeal winning him a wide circle of friends.
All have a story about Nelly.
"If he wasn't around, then something was wrong," Fambrough said. "The head coach could have been missing and we wouldn't have missed him as much as we would Bob Nelson."
KU mainstay
Howard Mossberg, retired dean of KU's School of Pharmacy, recalled trips across the state with Nelson in the 1960s and 1970s. Mossberg and others would play tricks, like stuffing Nelly's hat with tissue so it wouldn't fit on his head.
"He was always jovial," Mossberg said. "He never met a person that he didn't like. He never met a person that he couldn't talk to. As soon as he was in the room, he just made people comfortable."
Nelly was a mainstay at KU sports practices and games. He went to too many games to count.
"When people asked him about how many games he went to, he said: 'I went to almost as many as Max Falkenstien, except I had to buy tickets and he got in for free,'" Eleanor said.
Even if Nelly didn't have a game ticket, he could finagle his way in.
Fambrough said he once asked Nelson how he got into the bowl games, and Nelson revealed one of his secrets. He would bring a piece of equipment to the ticket booth and say that he had to get the equipment to the radio people pronto. Once inside, Fambrough recalled, Nelly would wait for someone to page a doctor for assistance.
"He said doctors were the best ones, because when they called: 'Dr. So-and-So, report to gate four,' most of the time it would be an emergency, and the doctor would never come back," he said. "Nelly would see him leave ... then he'd go up to his seat and watch the game on the 50-yard line."
Nelson also brought the game to others.
John Novotny, former Williams Fund director, recalled how Nelly managed to persuade the athletics program to share the game footage with a club comprised mainly of faculty.
"He was unselfish," Novotny said. "He was just unbelievable, and that's why we called him Mr. Jayhawk."
Dave Robisch, an All-American who led KU to the Final Four in 1971, said he formed a bond with the Nelsons as a student-athlete, and now he considers them part of his family.
"He was the ultimate fan," Robisch said. "He was just always at the fieldhouse. He was always there to greet a team or to make you feel good about a game."
A KU degree
One Spanish course stood between Nelson and a degree, Eleanor said. This year, Eleanor set out to give her husband a special Christmas gift. She contacted the chancellor to see what the possibilities were, and it was determined that Nelson met the requirements for a diploma in general studies.
Nelson wore many hats at KU. He formed friendships with faculty, players and coaches. He worked as a spotter at basketball games and assisted in other ways.
"He spotted for every radio announcer, practically, that has worked for KU except for Bob Davis," Eleanor said.
Nelson also wore a hat that many recall - a blue cap. It was part of a uniform that included tan slacks, a blue oxford shirt, blue blazer and Jayhawk tie. Eleanor still has the outfit at home, including that cap.
"It's worn through," she said.
Copyright 2018 The Lawrence Journal-World. All rights reserved. This material may not be published, broadcast, rewritten or redistributed. We strive to uphold our values for every story published.