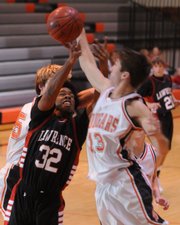 Shawnee — Maybe it was when Shawnee Mission Northwest's boys basketball team scored the first seven points of the game against Lawrence High. Or perhaps it was when the Cougars' Ryan Arel buried a contested three-pointer from the corner at the first-quarter buzzer to push the lead to 17. Even still, it could have been when LHS made just three field goals in the entire first half.
At some point, Lions coach Chris Davis realized Friday night's Sunflower League season opener just wasn't going to be Lawrence's night. The final tally was 75-43 in favor of the Cougars, but the game was decided well before the last horn sounded.
"It was just that kind of game," Davis said. "They came out, and because of how they played in the first quarter, they put us in a position of playing things we're not used to playing, and it showed. They played like it was the last game of the season."
It certainly didn't hurt that SM Northwest made more shots in the first quarter (nine) than LHS did in the first three quarters combined (seven).
"Pretty much all their shots went down," said James Easter, who made his first start of the season for LHS. "They came out hot and shot the ball well, and that's what killed us right there."
Arel - one of four Cougars to score in double digits - nailed his first three-pointer with the game just seconds old, setting the tone for the lopsided affair. By the time he made his three over Lance Kilburn's outstretched hand to end the first quarter, SM Northwest had built a 23-6 lead, and the game was over for all intents and purposes.
"We came out slow," said LHS center John Schneider, the only Lion to score in double figures with 14 points. "They kind of punched us in the mouth, and we didn't get back up and punch them back in the mouth. We just kind of stood there and waited for something instead of going and getting it."
The second half brought a new strategy from the Lions, as they stepped out of their zone to play a trapping half-court press. It worked for small stretches, but the Cougars converted several easy layups on the back end of the press to keep the margin above 20 points. To make matters worse, SM Northwest actually scored one point more in the fourth quarter than it did during its first-quarter scoring barrage.
For the game, the Cougars hit 30-of-51 shots while LHS made 15-of-42 attempts. Arel led all scorers with 19 points. Dorian Green had eight points and four assists for the Lions, and Baba Diallo finished with seven points.
Afterward, Davis still was marveling about the performance of SM Northwest.
"I think that was as well a coached team as we're going to run into, and they took advantage of everything," he said. "On top of that, they made every shot. It's amazing how easy the game is when the ball goes in the basket and how hard it is when it doesn't."
The Lions (3-2) have less than a week to regroup for their first of two matchups with cross-town rival Free State High.
"Everybody knows that game's coming up," Davis said. "A game like this will make our focus become pretty sharp. We'll be ready to play."
Copyright 2018 The Lawrence Journal-World. All rights reserved. This material may not be published, broadcast, rewritten or redistributed. We strive to uphold our values for every story published.