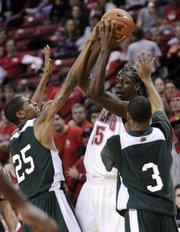 Kansas City, Mo. — Bill Self, who directed Kansas University's basketball team to five victories in six games in run-down Kemper Arena, definitely is looking forward to his coaching debut in shiny new Sprint Center.
"It (Kansas City's downtown arena) has more atmosphere than Kemper had last year. I think it has running water," Self cracked, taking a lighthearted pot-shot at the old arena known for potholes in its parking lots.
"We had good experiences at Kemper," Self added. "But Kemper was a tired building, as you know. This is a big step up for our fans. I think all our fans should be excited about it."
Self - his last game in Kemper was a methodical 68-58 victory over Toledo last Dec. 9 - today coaches his first game in the 18,500-seat downtown K.C. arena.
Tipoff for a nonconference clash between the No. 3-ranked Jayhawks (9-0) and unranked Ohio University (6-2) - a team that won, 61-55, at Maryland four days ago - is 4 p.m., with a live telecast on ESPN2.
"I think it looks a lot like American Airlines Arena (in Dallas), which is as nice as any place in the country," said Self, whose Jayhawks practiced at Sprint Center on Friday several hours before a major snowstorm was expected to hit Lawrence and the K.C. metro area. The Jayhawks spent the evening at a K.C. hotel.
"I hadn't seen it with the court down yet. It looks cool," Self added as he eyed the Sprint Center stands. "They obviously did a great job. Kansas City should be very proud."
Self said if the weather isn't too adverse today, he could envision adult fans bringing their children to tour the National Collegiate Basketball Hall of Fame and College Basketball Experience, which has interactive games.
"I would think it'd be nice for a fan to go to Kansas City for the day and enjoy the Plaza and shop a bit, then enjoy the Sprint Center," Self said.
The Jayhawks, who had a great deal of success in Kemper Arena (80-24 record), are enthused about debuting in the Sprint Center.
"It's a home game. We need to treat it just like a home court," Self said of the game included on KU's season ticket package. "From what I understand it's sold out. I'd think a majority would be pretty rowdy and KU backers.
"We need to be dominant in a place we have a majority of fans, just like Vegas last year. We should have won in Vegas (over Ball State and Florida) because of our fan support. We hope Sprint Center can be that for us.
"It's not Allen Fieldhouse, and it never will be. It can be a place we have a definite advantage. Winning games in the Sprint Center this point forward will be more important than ever, maybe moreso than Kemper, because from this point forward we will have more important games to play in Sprint Center."
The Big 12 tournament will be held in Sprint Center this season. Today's game gives the Jayhawks a sneak peek at the surroundings.
"It may be a little bit of advantage for us, I don't know if much more. We didn't play in American Airlines or Ford Center (in Oklahoma City) before we won it there the last two years," Self said.
The Jayhawks are ready to try a place in K.C. besides Kemper, where KU went 26-4 since the 1997 season. Included in that run were Big 12 tournament titles in 1997, '98 and '99. KU hasn't dropped a regular-season game in K.C. since a 64-61 decision to Ohio State on Jan. 2, 1983 in Kemper.
"I can't wait to play in there. It's big. It's amazing," K.C. native Brandon Rush said, noting he'll have a batch of family members at the game. "We'll try to start off well in there, try to get a big win."
Noted guard Sherron Collins: "I heard it's a sellout crowd. It's a home game for us. If we played Missouri it'd be a little different, but this is our territory, a big home game for us."
For KU is the talk of the town today ... if not all days.
"Definitely," Rush said, asked if K.C. is a KU town. "Look what happened with the football team. We had more people there than Missouri did," he said of KU fans at the KU-MU contest at Arrowhead, which actually was split with KU and MU supporters. "It's a big KU thing down there (KC). A whole bunch of Jayhawk fans are there."
Copyright 2018 The Lawrence Journal-World. All rights reserved. This material may not be published, broadcast, rewritten or redistributed. We strive to uphold our values for every story published.