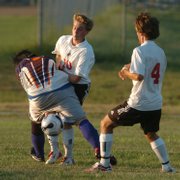 Lawrence High's boys soccer team repeatedly tapped on Junction City's doorstep in the early minutes of its season-opening game Tuesday night at Youth Sports Inc., only to be denied by bad timing and bad luck.
Then, the Lions knocked the door down with a sledgehammer.
After 26 disheartening minutes that saw two goals disallowed because of fouls, LHS finally got on the board in exhilarating fashion and cruised to a 5-0 victory against an outmanned Blue Jays squad.
With the ball seemingly bouncing out of bounds at midfield, Lions senior Corey Wendland outran his Blue Jays opponent, diving into a flag implanted in the ground to keep the ball in play. His pass down the right side of the field found senior Matt Shipley, who dribbled untouched and knocked his kick off JCHS goalkeeper David Cha into the net for a 1-0 lead.
Two minutes later, junior Skyler Criswell blasted a shot into the lower lefthand corner of the net from outside the penalty box, and Lawrence was on its way to winning handily.
Criswell admitted he was feeling mounting disappointment with each missed opportunity.
"I knew the goals would come, but it was frustrating at first because we had so many chances, and none of them would go in," he said. "Eventually, Matt Shipley got the first one in, and that just started one of many."
"It was really difficult," added Shipley. "I didn't know if one was ever going to go in, but when it finally did it was kind of like the flood gates opened."
Three minutes before halftime, a Blue Jays handball in the penalty box resulted in the Lions' third goal of the half when senior Taylor Bussinger nailed the ensuing penalty kick.
The second half saw more of the same, as Criswell scored again just eight minutes in. This time, the goal came off an assist from Shipley. Junior Bobby Davis added a penalty kick seven minutes later to account for the final margin.
Junction City (0-2) spent the majority of the game retreating in its own half of the field as Lawrence controlled the tempo of play with solid passing, while LHS goalies Sam Wessels and Sean Simmons were tested little.
Afterwards, head coach Bill Kelly admitted he was more nervous than his players entering the contest. Kelly, who replaced Christian Sayre as coach less than two weeks ago, was coaching his first game as a Lions varsity coach.
Kelly's postgame speech to his players preached being "proud but never satisfied."
"My ultimate goal is to be playing in November (at state), and that's what I've been trying to instill in the boys," Kelly said. "If you ever get satisfied, you lose your intensity and drive to improve."
LHS will take its next step in that direction on Thursday at YSI against Shawnee Heights.
Copyright 2018 The Lawrence Journal-World. All rights reserved. This material may not be published, broadcast, rewritten or redistributed. We strive to uphold our values for every story published.