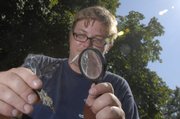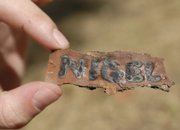 -->
The temperature gauge at James Hogwood's east Lawrence home read 104 degrees just before 4 p.m. Wednesday. And like most Lawrence residents, the 34-year-old chose to spend the afternoon inside - away from the sun that he used to create artwork the day before.
Harnessing the sun's rays that have helped make this week the hottest of 2007, Hogwood used a magnifying glass to burn names into pieces of bark.
"It helps if it's summer," he said of his creations. "It's hard to do in the winter because the sun isn't as intense."
Wednesday's high temperature of 105 degrees was the highest in Lawrence since thermometers hit 107 degrees July 19, 2006, said 6News chief meteorologist Jennifer Schack.
Temperatures will be cooler and close to average as the week wraps up, Schack said, with today's high expected to be 97. More clouds and an isolated afternoon storm are also predicted.
"It definitely looks like the heat wave is winding down," Schack said.
With the heat wave comes increased water usage as property owners try to save their lawns.
From July 30 to Aug. 5, Lawrence's two water treatment plants pumped 124 million gallons of water. Last week, that number jumped 20 percent to 149 million gallons.
"So, we gained about 25 million gallons of water in a week," said Keith Whealy, city water system manager.
But despite a gardener's best efforts, some grass patches may be too scorched to save, said Ken Lohrentz, a Douglas County Extension office master gardener.
"There's probably going to be a necessity to replace some parts of the lawn," he said. "Generally, in this type of weather that is to be expected."
Copyright 2018 The Lawrence Journal-World. All rights reserved. This material may not be published, broadcast, rewritten or redistributed. We strive to uphold our values for every story published.