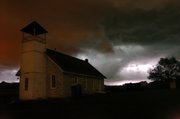 Lawrence's high temperature reached 100 degrees Thursday for the second day in a row, and triple digits are expected to stick around.
Wednesday's rainfall accumulation, .77 of an inch, wasn't enough to ward off a heat advisory that is in effect in Douglas County until 7 tonight.
According to the National Weather Service, today's high will be 99 degrees, but what people will really be feeling is the heat index, which will be 109 degrees. The heat index is a measure of how hot it feels when relative humidity is added to the actual air temperature.
A heat advisory is issued when the heat index climbs into the 105- to 115-degree range in consecutive days.
The weather service advises people who plan to be outside to wear light-colored, loose-fitting clothing and a hat, use sunscreen to reduce possible sunburn, drink plenty of nonalcoholic fluids to avoid dehydration and avoid prolonged exposure or strenuous activity.
Paul Frantz, a meteorologist with the weather service, said it's possible the advisory could be extended depending on night temperatures.
"We're going to more or less take this day by day because we're near our boundary where overnight temperatures may bring the daytime temperature down," he said.
A heat advisory is based on night temperatures. Frantz said they have been hovering in the low 80s.
"If it's that hot at night your body doesn't have time to recover during the day," Frantz said.
However, he predicted tonight and Saturday night's low temperatures would be in the mid-70s.
Even if a heat advisory isn't issued, Frantz said the weather service would warn people to take extra precautions in the heat.
He said people should take breaks in the shade, stay hydrated and check on the elderly and young, who are most susceptible to heat-related illness.
Jennifer Schack, 6News chief meteorologist, said beginning Sunday the high temperature will be about 100 degrees.
The heat indexes will be about 8 to 9 degrees higher, according to Frantz.
Copyright 2018 The Lawrence Journal-World. All rights reserved. This material may not be published, broadcast, rewritten or redistributed. We strive to uphold our values for every story published.