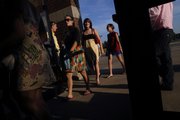 Eva Ladhani officially became a Jayhawk Wednesday night at Kansas University's 142nd opening convocation ceremony, which kicked off the academic year.
The 18-year-old freshman from Overland Park couldn't be more ready.
"I'm excited, I have more goals than in high school," she said. "I can be whoever I want to be. I don't have to join a clique. I can be my own clique and still fit in."
Student body president Hannah Love would approve.
"Step out of your comfort zones," Love said to hundreds of students at the Lied Center. "KU is a place for everyone whether your interests range from politics to arts or sports, you can find your niche," Love said. "So take time in your upcoming year to explore KU. And, it will happen; KU will become a part of you."
Ladhani plans to find her way by joining diverse student clubs, some that she "never knew existed," she said.
Love was joined by several members of the university's faculty and staff in welcoming the Class of 2011 and imparting words of wisdom.
Barbara Atkinson, executive vice chancellor of the KU Medical Center, received applause and cheers for reminding students that learning can be fun.
"We will let you experiment with drugs in a way your parents will approve of," she said.
KU Provost Richard Lariviere introduced all of the Lawrence school deans and said, "collectively, we present a place that is complex, dynamic and challenging."
During the convocation address, Chancellor Robert Hemenway told the antsy freshmen they have chosen a lifelong identity as a Jayhawk.
"You are part of something much bigger than your personal story," he said.
As Jayhawk Boulevard begins buzzing with students walking to class and buses driving through, Hemenway urged students to "go and soar."
Copyright 2018 The Lawrence Journal-World. All rights reserved. This material may not be published, broadcast, rewritten or redistributed. We strive to uphold our values for every story published.