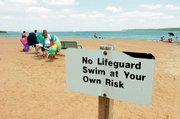 High waters this spring washed away signs banning swimmers from an area of Clinton Lake where a Lawrence man drowned last weekend.
James Whitaker, 33, who died last week at Lawrence Memorial Hospital, was the third person to drown at the lake since 1996.
The Lawrence man was swimming Sunday in the Bloomington Park area breakwater, a location off-limits to swimmers because of the high number of boats entering and leaving the area, said David Rhoades, U.S. Army Corps of Engineers park manager.
One sign, warning swimmers and waders of the lake's hazards, remains at an adjacent boat ramp near where Whitaker and his family were enjoying their Sunday at the lake. Swimming is banned around all of Clinton Lake's boat ramps, boat docks and the area near Clinton Dam where water is released into the Wakarusa River outlet.
Rhoades, who said the corps would repost new "no swimming" signs at the Bloomington Park breakwater, recommends visitors swim only at the Bloomington and Clinton State Park designated swimming areas.
And while swimming in other parts of the lake is allowed, it's risky. Because of the lake's sheer size - 7,000 acres - tracking all of its hazards is difficult, Rhoades said.
"The hazards are everywhere," he said. "The lake fluctuates and changes the bottom depths and it's very murky, so you don't really know what you're getting into."
From 1998 to September 2006, 79 percent of fatalities at lakes and rivers under Army Corps of Engineers jurisdiction occurred in undesignated swimming areas, Rhoades said.
In the past five years, 141 people have drowned in Kansas, according to the Kansas Department of Health and Environment. It is also one of 10 leading causes of injury death for people under the age of 45, according to U.S. Centers for Disease Control and Prevention statistics.
The CDC has also found that people have a higher risk of drowning at two peaks in their lifetime - age 5 and younger and between the ages of 15 and 25.
"A lot of the drownings that happen at the lake, there are several factors the come together," said Aaron Henrichs, Department of Wildlife and Parks law enforcement/conservation officer.
Excessive alcohol consumption, poor weather conditions, boating accidents, underestimating your ability, swimming without a life jacket and swimming in banned areas all can increase a person's chances of drowning, Henrichs said.
"If (a health problem) happens in the water, it's life threatening," he said. "You take for granted what oxygen means to you."
A toxicology report, which would indicate whether alcohol was in Whitaker's body, is pending.
"To our knowledge there wasn't any substance abuse or alcohol abuse involved," said Dr. Darin Elo, an LMH physician who treated Whitaker.
Copyright 2018 The Lawrence Journal-World. All rights reserved. This material may not be published, broadcast, rewritten or redistributed. We strive to uphold our values for every story published.