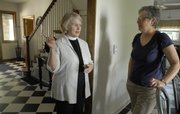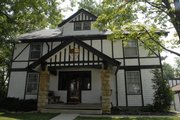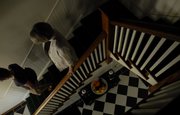 Canterbury House is back in business.
The longtime home to Episcopal campus ministries, which closed in October 2005, reopens in full force this fall - both remodeled, and with a retooled ministry filling it.
"Our main reason for doing college ministries is the undergraduate years are probably your most important years in your own personal, spiritual and professional development," said the Rev. Craig Loya, campus missioner. "It's essential for the church to be with students who are going through their own time of development."
Canterbury House, 1116 La., was completely remodeled through a gift from an anonymous donor. Among the improvements:
¢ A new kitchen.
¢ New furniture in the living room, including a flat-panel TV and pool table.
¢ New chairs in the chapel, replacing hard benches.
¢ Enlarged parking lot.
¢ Repainted bedrooms with new furniture.
"It was an unbelievable amount of remodeling," said Melodie Woerman, a spokeswoman for the Episcopal Diocese of Kansas.
The house's remodeling is symbolic of the overhaul of the entire diocese's campus ministry program. The change comes nearly two years after the position of Episcopal chaplain at KU, held for 12 years by the Rev. Joe Alford, was eliminated.
Now, Loya and the Rev. Susan Terry have been hired as campus missioners in charge of campus programs throughout the eastern half of the state. Their offices will be in Canterbury House.
They'll be setting up campus ministries at KU, Kansas State University, Emporia State University, Washburn University, Wichita State University, Pittsburg State University, Baker University and other colleges and universities in the state.
Because of their big plans, Loya and Terry can't be on all campuses at all time. They're selecting undergraduate peer ministers on each campus who can lead Bible studies and lead other activities. Several campuses, including KU, also will have a postgraduate intern working with the Episcopalians.
"It's very exciting," Woerman said. "We will be able to have the presence of the Episcopal Church on more campuses and have, we hope, an impact on the lives of more students on more campuses."
At KU, the ministry will mean four peer ministers and one postgraduate intern who will live at Canterbury House. They'll be in charge of publicizing ministries, leading worship and Bible studies, and planning and cooking dinners for students.
"Instead of the clergy being the main leaders in our programs in ministries," Loya said, "it'll be the students. The role of the clergy is to support, train and equip them for ministry."
In the past, most activities have been held on Tuesday evenings, though at press time Loya said the schedule for the fall hadn't been set.
Katie Knoll is among those who are looking forward to programs this fall.
She's the KU intern for the Episcopal campus ministry program. Knoll, a May graduate of KU in religious studies, also served on the committee that helped establish the retooled ministry.
"When I first came to KU, it wasn't that strong of a program," said Knoll, who is a lifelong Episcopalian from Topeka. "I think we are recognizing college ministry is very, very important to the church. In the diocese and overall in the church nationally, we've realized we're losing our appeal with younger adults, so we're trying to work it so we're trying to speak to them and have things for them.
"We'll provide a meal and space to hang out with fellow Episcopalian friends, or Christian friends, or just friends. They can be in community with one another."
Copyright 2018 The Lawrence Journal-World. All rights reserved. This material may not be published, broadcast, rewritten or redistributed. We strive to uphold our values for every story published.