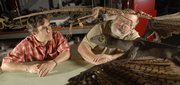 In the restricted area of the Kansas University Natural History Museum, scattered around million-year-old fossils and artifacts, a dinosaur is getting nursed back to life.
For the last seven years, David Burnham, state paleontologist, and Larry Martin, museum curator, have studied the microraptor, a flying dinosaur, with two sets of wings.
"There was a big argument of how flight began," Martin says.
With their research they hope to prove how birds developed flying skills. Some paleontologists believe that birds developed flying from first running on the ground, while others think that flight developed when birds leapt from trees.
"We're trying to prove that the origin of flight (developed from) the trees down - from stages of a glider to a flyer," Burnham says.
Burnham believes that microraptors moved kind of like flying squirrels do today, by gliding from destination to destination.
They've constructed a life-size model of the microraptor, and the national PBS program NOVA will complete filming this month for an episode highlighting the museum's research on the origin of flight.
The project began with a 125-million-year-old fossil of a microraptor that came from the Liaoning province in China, which lies directly to the west of North Korea. The fossil's oxygen-poor environment preserved the specimen well enough to see the outline of its feathers.
"We developed a technique here called transfer preparation," Burnham says of how they prepared the model from the fossil.
This step-by-step process allows one to cast the entire fossil and eventually carve out the shape of its bones to make a mock skeleton.
"A lot of people construct things as an artist (on paper) in two dimensions. When you fit (the skeleton) together in three dimensions, (the construction) has to work, you can't be a little bit off," Burnham says.
From the bones they are able to make a model, equipped with feathers and all. The model that Burnham and Martin have constructed is different because they based it from the microraptor's skeleton, where others are made from photographs or drawings.
"Once you fit three bones together to make a junction you know it's a pretty good fit," Martin says of how they were able to construct the skeleton.
NOVA started filming at the museum last spring and will finish filming in August for their installment on the origin of bird flight, which will air next January. The program will feature research preformed on microraptors by KU and the American Museum of Natural History in New York City, among other specialists.
Nova had previously used Martin as a source on their special called "The Case of the Flying Dinosaur" from the early 1990s. The program decided to do a follow-up with their special on the origin of flight in birds. The program will air in January on PBS.
"Nova went back to see what I was doing and looked around to see what else was happening in the field," Martin says. "It turned out that we were doing a lot."
Copyright 2018 The Lawrence Journal-World. All rights reserved. This material may not be published, broadcast, rewritten or redistributed. We strive to uphold our values for every story published.