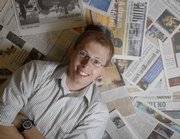 Many college students try to take their last semester easy - take a few classes and relax after nearly four years of college. Not Erick Schmidt.
Schmidt, the fall editor of the University Daily Kansan, will make his ninth and final semester the busiest.
"It has a lot to do with the opportunities the Kansan has given me over the past four years," Schmidt said. "I owe the Kansan as much as I can in my final semester."
Schmidt, a graduate of Liberal High School, has worked at the newspaper all but one semester at KU, including the last two summers. He said he has served nearly every position and covered all areas of the news. Last summer he served as editor of the Kansan summer edition.
Although it only published weekly, Schmidt said the experience was invaluable.
"It helped because it taught me what it was to understand where other people were coming from and helping them work through their problems," he said.
Schmidt's ability to work with other people and experience managing the newspaper are what makes him stand apart, said Malcolm Gibson, the Kansan general manager and adviser.
"He's very instructive in helping the workers reach their goal, because he has done all of those jobs before," Gibson said.
Gibson also said Schmidt's calm demeanor and easygoing temperament makes for a less stressful environment in the newsroom. Gibson said a newsroom can be a very hectic, demanding place if people are not calm.
"Erick has just a wonderful personality," Gibson said. "He is very even and calm. People respect him, but they also like him."
Schmidt said he is looking forward to meeting and working with several new people on the Kansan staff. Schmidt said nearly every fall semester the paper has to start over because of graduating seniors.
"We always have new faces, and we have a really large turnover," Schmidt said. "I'm just looking forward to meeting the new people and finding out what they can do."
Not only will Schmidt spend time meeting and managing people, he also said he would try to make adjustments to the Kansan, including a possible redesign.
"For me, the Kansan should be something people want to read and go out of their way to pick up," Schmidt said.
Gibson said he hopes Schmidt will help make the Kansan something people will go out of their way to check online as well.
"We have things to recover from, and we just need to build on a lot of things the Journal-World and other papers are doing," Gibson said. "The Web is going to be one of those main priorities."
Copyright 2018 The Lawrence Journal-World. All rights reserved. This material may not be published, broadcast, rewritten or redistributed. We strive to uphold our values for every story published.