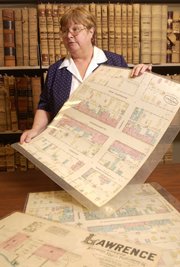 To see Sherry Williams' passion in action, give her an 1883 Sanborn map of Lawrence, when the streets were not yet named for states.
"If we hadn't encapsulated these, they would have disintegrated," she said.
Kansas history is her business, and she has spent more than a quarter-century helping people learn that history.
In October, the new leader of Kansas University's Kenneth Spencer Research Library will be a familiar face who has 28 years of experience in the place.
Williams, curator of the research library's Kansas Collection since 1979, was named the interim head of the Spencer Library in July. Spencer Librarian William Crowe will keep his title until he begins working part-time in October.
"I think Kansas' history is rich and varied. I think we have incredible history in Kansas," Williams said as she sat on a rainy summer morning just a few feet away from shelves of older books - part of her treasure - in the North Gallery of the Spencer library.
The man whose role Williams will fill for at least this year says the cliches are true when he describes her work ethic.
"Consummate professional. She's passionate about what she does. She loves to teach. She loves to reach out to people," Crowe said.
Her start
Williams, originally from Michigan, earned a bachelor's degree in history from Kalamazoo College there, and later earned a master's degree of library science from the University of Oklahoma. She worked in the Western history collections department at OU until she took her job as a curator at KU in 1979.
"It's kind of like asking which of your children do you like the most," Williams said when asked about her favorite history artifacts.
But she admits one of her favorite projects is working with Spencer field archivist Deborah Dandridge at documenting the experience of blacks in the state and region, including helping with the Kansas City, Kan., Sumner High School collection.
"I felt very honored to be a part of that and to meet so many wonderful people," Williams said.
As she takes over the interim position and leads day-to-day operations, Williams said she hoped to continue the Spencer library's mission and the work of Crowe and leaders before him. Community outreach will be one of her goals, not only to the KU campus but to Lawrence and the state, she said.
"This is a place where they can come to do research, and they can get one-on-one attention," Williams said.
Crowe said working with people is one of her strong points. She has recently filled in for Crowe at times, during his absences.
Another major challenge Williams sees as a curator is the move into the electronic era and available in digital databases.
"We have huge issues of preservation," she said.
The library has some items available electronically, Crowe said, but its main mission remains to try to preserve and provide original documents and other historical records to the public.
KU Libraries Dean Lorraine Haricombe said the longtime experience Williams will help with the transition as Crowe moves into another role.
"The stability in that transition is very important," Haricombe said.
Future leadership
Williams calls the interim position a chance to "stretch and grow."
"I just really appreciate the opportunity to do this at this point in my career," she said.
She also said she will continue to work with the research library's other department heads: Richard Clement, head of special collections; Becky Schulte, university archivist; and Darrell McNamara, head of processing. Williams will also maintain her responsibilities as curator of the Kansas Collection.
However, she says she is focusing on leading the Spencer Library through the next year and says it would be inappropriate to comment on what could happen with the full-time position.
"I'm very happy doing what they asked me to do," she said.
Haricombe said she was still exploring options about what to do about the permanent leadership role.
Crowe, a former KU Libraries dean and vice chancellor for information services, will become special assistant to Haricombe until he retires, which he said would be in a couple of years.
Williams lives in Lawrence with her husband, Gerry, a paint contractor. The couple have three sons, Jeff, Andrew and Peter.
Copyright 2018 The Lawrence Journal-World. All rights reserved. This material may not be published, broadcast, rewritten or redistributed. We strive to uphold our values for every story published.