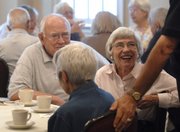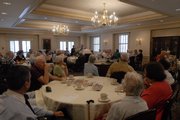 Side dressing. Deadheading. Geotropism. Pinching mums.
These are just some of the gardening techniques discussed by the gardening group of the Endacott Society, a network of retired faculty and staff members at Kansas University.
"I have fun with the group because they pretend I'm an expert," said Stan Roth, a group member who taught biology at Lawrence High School and retired in 1999.
Roth and about a dozen other people meet every Wednesday morning. While their discussion is usually quite humorous, and not always about gardening, it is one of several groups that make up the society.
"We live and learn. That's why we come to this organization every Wednesday," said Arno Knapper, a discussion leader among the gardeners.
While the group doesn't actually plant flowers or kill weeds together, they use it more as a social time to discuss different uses for pesticides and when the best time is to plant different types of flowers. Sometimes they will even give away or trade bulbs and different plants.
Dick Schiefelbusch, a leader of the gardening group, has been a member of the Endacott Society for 17 years. He said retirees' clubs are growing with specialties because people have more energy and are living longer.
"Old gardeners never die," he joked.
The Endacotts are no secret society. It boasts a membership list of about 350, although some are inactive members, and hosts more than a dozen different interest groups that meet on a regular basis.
"These are retirees from all different parts of the university and they enjoy each other and they keep active mentally," said Winnie Gallup, an auxiliary member of the organization.
The groups get together to share their knowledge, discussing old films, literature, gardening and foreign and domestic policy. They have also done sing-a-longs and have taken trips together. Their most popular meetings, though, are the Wednesday morning coffees and their potluck dinners, which sometimes bring in a crowd of about 100.
"The mission is partly about the fellowship and bringing together faculty," said Arnold Weiss, who taught Spanish at KU and will be the incoming president of the society. "I have a chance to meet people that I've never met over the years at KU."
The society, which started in 1983, doesn't have any big changes set for the future. They believe what they are doing is successful and there is no need for adjustments, especially with the gardening group.
"Some are very small groups," Weiss said. "But they are faithful."
Copyright 2018 The Lawrence Journal-World. All rights reserved. This material may not be published, broadcast, rewritten or redistributed. We strive to uphold our values for every story published.